AMD lets Puma release date out of the bag
Laptop platform to challenge Centrino on power consumption
AMD's would-be Centrino-beater, its 'Puma' platform for laptops, will debut in June in notebooks you can actually buy, the chip maker promised this week.
AMD first began talking about Puma almost a year ago. The platform comprises 'Griffin', a dual-core processor designed specifically for mobile applications but built using the current Turion core, and the M780 chipset - codenamed 'RS780M' - which will incorporate a DirectX 10 GPU.
AMD will also insist that Puma laptops come with Wi-Fi, but unlike Intel's approach with Centrino, it's not forcing manufacturers to use and AMD wireless adaptor.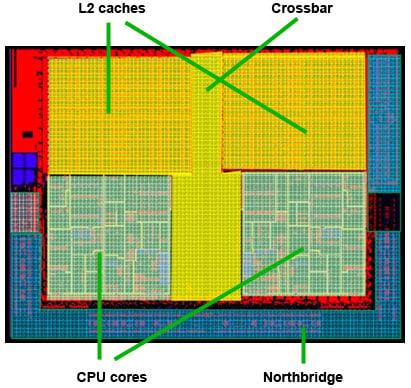 AMD's Griffin: up close
Griffin - likely to ship as the Turion Ultra, some reports suggest - is essentially a Turion dual-core chip with additional, mobile-friendly circuitry on the die. As AMD told Register Hardware back in May 2007, it's targeting power consumption rather than performance in the first generation of Griffin.
So while the CPU cores are essentially old tech, the northbridge components are new, designed with energy efficiency in mind. That wasn't the case with current Turions, which effectively use desktop northbridge elements.
Each core can run at a different clock speed than the other. Griffin will contain 2MB of L2 - 1MB dedicated to each core. The HyperTransport 3 controller, the DDR 2 memory manager - 667MHz and 800MHz memory will be supported - and the cores all run on separate voltage planes allowing each to be powered down separately.
The M780's GPU will be able to access main memory without waking either processor core, which should boost the platform's DVD and Blu-ray Disc playback longevity, if nothing else.
The M780 will work with a dedicated graphics chip, if one's present, to jointly render 3D graphics. Host notebooks can also be set to run the main GPU when they're connected to the mains, and only the integrated graphics when they're on battery power. Laptops fitted with the PowerXpress technology, as AMD calls it, will flip between the two GPUs on the fly so there's no need to reboot.
AMD said we should expect to see more than 100 Puma laptops hitting the market at all price points from $699 to $2500 from the platform's late Q2 arrival.