This article is more than 1 year old
Ghosts of the 128KB Mac haunt the iPhone, Touch
Putting the MultiTouch UI to work
Comment Are mobile gadgets tools, or just toys? There's one way to find out of course, the hard way. Throw something at the market in a recession, and see if it finds a use. Apple has created a wonderful new user interface for its iPhone, iPod Touch and Mac notebooks that should be the basis for a generation of consumer products.
But this UI needs to go to work, if it's to be more than a toy. And if Apple is to avoid the doldrums that becalmed the original Mac, Apple needs to kick-start that process now, as it unveils the third-party SDK for the iPhone and Touch.
Steve Jobs' justifiably calls MultiTouch the biggest Apple innovation since the first Macintosh. Although hyperbole billows out of Jobs like smoke from an out-of-control dry ice machine, I think he's fully justified in being proud of the implementation. Not since the days of Psion have we seen such an example of "extreme engineering" in a consumer product - where the capabilities far outstrip the competition, in a product that costs less to manufacture. This is the reward for investing in great engineers - and ensuring they meet really strict goals.
For example, web browsing is faster, slicker and easier on the iPhone/Touch's 480x320 screen than on my Nokia tablet - which has twice the screen space, and a bunch of useful buttons. The Apple's superiority is the consequence of lots of tiny thoughtful design details, such as the font rendering, or an address bar that's "attached" to the page, rather than the view frame, so it moves out of view as you scroll down.
But bear in mind, too, what a marvel the original Apple Mac was when it first appeared. The Mac generated sensational press coverage, and by common agreement, set the benchmark for GUI design. Then it languished. The faltering sales of the Mac almost capsized Apple; within eighteen months of the '1984' Superbowl ad introducing the computer, you could buy an Amiga 1000, which blew the Mac away with its audio and graphics, for around half the price.
So the challenge is not just bringing something to market on time and on budget - it's putting it to work. With the help of Adobe's Postscript, Aldus PageMaker, and Apple's own Laserwriter printer, the Mac eventually created a market for itself. It's just as well that it did.
But that was at the start of the PC business - when personal computers were touted as a useful device for storing recipes in the kitchen. (A $2,600 jotter - I kid you not). Almost everything we take for granted yet today - direct to disk recording, music composition and playback - didn't exist. So finding new markets for MultiTouch products requires even more innovation.
This toy needs tooling
There's the merest hint of trouble ahead. The iPhone has failed to establish itself beyond North America as securely as it has in the home market, and (to my surprise) sales of the iPod Touch have reportedly been less than expected. One analyst Scott Craig at Banc of America, lowered his estimate this week, citing data that iPod production is down year-on-year, and Craig also lowered his iPhone sales estimates. Other Apple-holding analysts urged the company to deliver a 3G iPhone.
From my soundings, consumers are no less enamored of the iPhone in Europe than they are in the US, once they have a chance to have a look at it. And 3G matters less than most people think. But this enthusiasm isn't being converted into sales.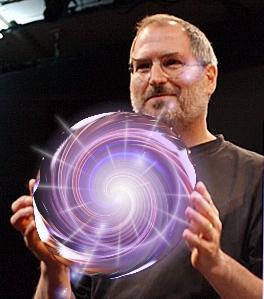 The market here is much more competitive, and users can afford to be much pickier. We get generous device subsidies, and are used to changing networks every year, and sometimes more often. It doesn't so much need the "killer app", but the killer use.
And remember, selling luxury items is harder in an economic downturn, when discretionary income is scarce.
So the SDK, and Apple's choice of the applications it regally approves, is critical. Mobile data services are a really tough proposition, with ideas that look great on paper failing in the real world.
As the smoke clears after today's announcements, we'll have a better idea of what applications we may be seeing. I've got my own list. Now let me know what you want from MultiTouch. ®