Paranoid partners to get GPS snooper
Behind you...
If you're suspicious about the missus' daily movements or wonder exactly which 'old friend' your hubby is meeting for dinner, then you'll be glad that a GPS gadget's been made available to help you track their movements.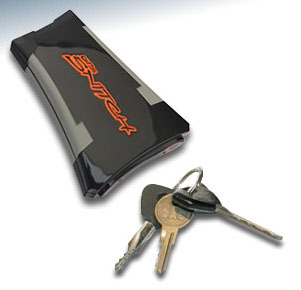 Blip's Snitch: track people online and via SMS
The GPS Snitch, from manufacturer Blip, is designed for just one purpose: tracking movement. The unit can be covertly slipped into, say, a car or a bag without the owner's knowledge. It establishes a "GPS perimeter" around itself and, once your partner's up and left, the Snitch will activate tracking. Its internal battery provides up to seven days of continuous tracking.
Blip claims the Snitch can distinguish between simple vibration and travelling movement.
Users can plot the Snitch's location in real time on an on-screen map, accessed through Blip's website. You'll be able to see the exact route the gadget's taken since the drop-off, Blip said. You can also opt to receive SMS messages on your mobile phone that'll give you information about the Snitch's latest location.
So, if you do want to wait outside the restaurant and confront them, then now you'll be able to go straight to the right eaterie.
While the Snitch itself costs $400 (£190/€270), manufacturer Blip also requires users to sign-up to a monthly monitoring package, which costs upwards of $10 (£4/€8), to use its online tracking facility. But what price can you really put on peace of mind?