Garmin touts new Nuvi range
Pimp your satnav
CeBIT Garmin has given GPS enthusiasts a sneak peek at its upcoming satnav-cum-portable TV. It also unveiled its latest range of entry-level models this week.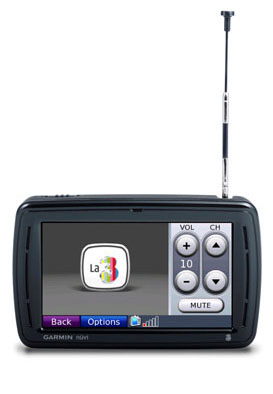 Garmin's 900T: picks up DVB-H broadcasts and GPS signals
The TV-equipped model, dubbed the Nuvi 900T, is thought to be the first portable GPS device with an extendable antenna for picking up TV broadcasts over DVB-H. The 900T was paraded at the CeBIT show in Hannover, Germany. It can pick-up a selection of channels and pay-per-view programs, though presumably not while you're driving. Sadly, reports suggest the unit will only be available in Italy when it debuts this July.
For the time being, Garmin fans elsewhere will have to make do with the new Nuvi 2x5 range, consisting of the 205, 205W, 255 and 255W. Model numbers without a W on the end have 3.5in displays; the rest have a 4.3in widescreen display.
Each uses a 333MHz CPU and incorporates a feature dubbed HotFix which allows "critical satellite information" to be cached on the satnav. This, Garmin claimed, allows the unit to use that information to quickly calculate a position, without waiting for a signal from the satellites.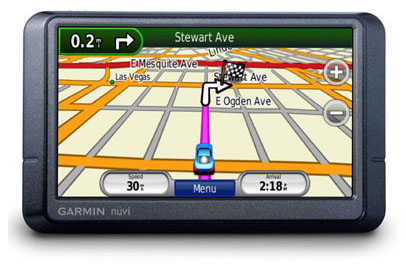 Garmin's 225W: beefing up entry-level satnav
A photo sharing feature is also included on all models that, a little like photo tagging, allows users to access millions of location-stamped pictures from its online community website. Pictures can be downloaded onto the device and used as route guide, if boring directional lines aren't your thing.
The 225 and 225W also provide street names in their voice prompts, so instead of the vague command to "Turn left onto the next corner" you will hear "Turn left into Walton Avenue".
All four models will be available from June. The 205 and 205W priced at $200 (£100/€150) and $250 (£125/€175) respectively, whilst you'll have to track down $300 (£150/€200) for the 255 and $350 (£175/€210) for the 255W.