Palm OS-based Centro arrives in UK
Still no 3G or Wi-Fi...
Palm has rolled out the Palm OS-based Centro smartphone in the UK, pitching the £199 handset as a yoof-oriented alternative to its more 'serious' Treo phones.
Centro uses the same layout and look as the recently released, Windows Mobile-based Treo 500, but it's rather narrower in profile and with a crisper, higher resolution display. The 500's screen is 320 x 240 to the Centro's 320 x 320, but the Centro display is physically smaller, indicating a higher dots-per-inch rating.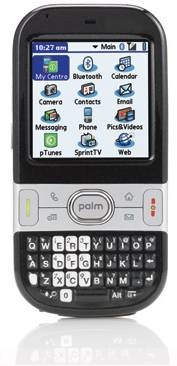 Palm's Centro: none more black
The 500 is thinner than the Centro, but since the difference amounts to just a few millimetres, there's really not much in it.
The Centro is has quad-band GSM/GPRS/Edge connectivity, but no 3G. It's got just 64MB of user-accessible memory to the 500's 115MB, but it can take Micro SDHC cards of up to 4GB in capacity. Both devices have Bluetooth - though it's version 1.2 here, 2.0 in the Treo. The Centro has a 1.3-megapixel camera, but the Treo's runs to two megapixels.
The Centro, which has proved particularly popular in the States, comes with Google Maps pre-installed and DataViz' Documents to Go for reading and editing Microsoft Office files, and viewing PDFs. It also comes bundles with PocketTunes for MP3 playback. There's a stereo headset in the box. The phone's Bluetooth link doesn't stretch to A2DP stereo streaming.
The Centro goes on sale today. Look out for Register Hardware's review next week.
Related Reviews
• Palm Treo 500v
• Palm Treo 680
• Palm Treo 750v