This article is more than 1 year old
Pure Highway in-car DAB radio
DAB in your motor, without breaking the bank
Review If rumours are to be believed, Ford will soon be fitting DAB as standard on some vehicles. But the retro-fit market still has massive potential and to fill that gap digital radio specialist Pure has come up with a really neat little gadget: the Highway.
It's like all those iPod-oriented FM devices. Highway picks up digital radio transmissions then sends them to your car's radio via an FM signal. The unit is intended to be powered by a car cigarette lighter, although for DAB on the move it also can run on two AA batteries. It comes with its own "easy-to-fit" windscreen aerial.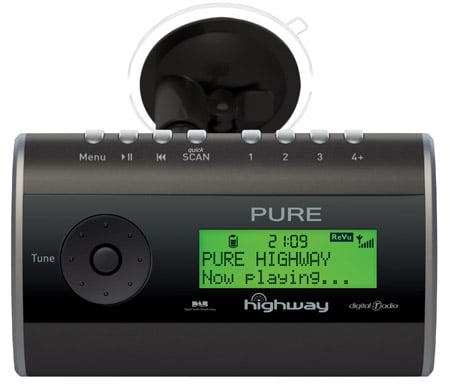 Pure's Highway: relaying digital radio to FM receivers
The antenna lives up to its description - it really is a straightforward job to stick it onto the inside of the screen. The Highway and its mount are discreet enough not to interfere with the driver's view through the windscreen.
A powerful magnet attaches the Highway to its mount and also makes removal nice and quick. Enough antenna cable is provided to make the fit as close enough to the driver as possible. We put our Highway in a Land Rover Freelander and found plenty of power cord too. Fortunately, the Highway comes with some cable clips to tidy the job up afterwards and avoid to much spaghetti hanging on the dash or around the passenger foot well.
The Highway is complaint with DAB Band III, with ETS 300 401, and can decode all DAB transmission modes (1-4) up to and including 256Kb/s. When you turn it on, an automatic search begins, and our unit picked up 60 stations, a better performance than some DAB radios intended for indoor use.