This article is more than 1 year old
Pure Highway in-car DAB radio
DAB in your motor, without breaking the bank
Once the unit has collected the DAB stations, it searches for a suitable FM frequency between 87.6MHz and 107.9MHz to transmit to the car radio. You tune the car radio to the frequency displayed on the Highway. If your radio has RDS, the job is made even easier as the words "Pure DAB" will appear when the tuner reaches the designated FM frequency.
Quite a few up-to-date in-car set-ups have a line-in, and the Highway can plug straight in, eliminating and sound quality lost in the shift from DAB to the very busy FM band. We found that in general the DAB signal was pretty reliable. However, problems can develop in built-up areas with interference on the FM frequency used to deliver the DAB signal to the car radio.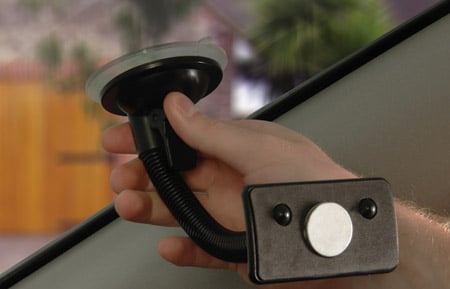 A powerful magnet, yesterday
Pure has supplied an answer here, and the next suitable FM transmit frequency can be found by a quick press of the rescan button, and the car radio can be retuned accordingly. The unit can store four FM transmission frequencies, each triggered by pushing the numbered buttons on the top of the unit. The user then stores these pre-sets in the car's radio. You can fine-tune the signal in increments of 0.1MHz by using the Highway's manual tuning mode.
You'd be forgiven for expecting the sound quality on a digital-to-analogue device like this to be a little patchy, but not at all. The sound quality on DAB is really excellent, with the top of the mid-range and treble frequencies enjoying particularly good levels of clarity and bounce. Detail throughout all levels is very good.
A bit of Pink Floyd later and we discovered there was enough room to appreciate even this band's kitchen sink approach to sound production, complete with gently sobbing babies, manic laughter and penguins being fired out of cannons.