This article is more than 1 year old
Pure Highway in-car DAB radio
DAB in your motor, without breaking the bank
Clarity on voice stations is also good - a real boon as digital has much to offer in that respect, particularly for sports fans who until now have had to make do with AM whilst in the car. The unit can store 20 stations, which are straightforward to programme in and three of which can be stored on the pre-set buttons on top of the unit.
Highway actually comes with four stations already programmed in, including Planet Rock and the Jazz. These last two are a bit unfortunate as both stations are facing closure - a big shame this, as both have strong listening figures. Planet Rock recently won a Sony Radio Award. News of the closure of these and other stations has been seen as a sign that the DAB format is seriously faltering in the UK.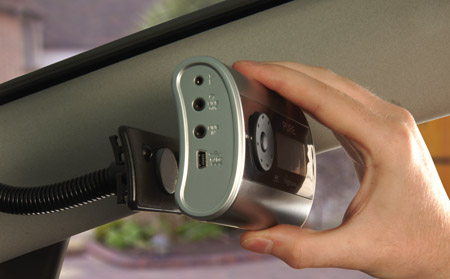 Attachment and removal is nice and quick
But a quick look at the listening figures for DAB, and the amount of DAB radios sold, shows the format is alive and kicking.
Still, the little stickers that denote the plumbed in preset channels come off easily and the buttons themselves can be reset to an alternative favourite station.
The unit's control wheel gives easy access to all the unit's features and functions, and the DAB suite is topped of with several different on-screen displays allowing the user to choose from basic displays or enhanced scrolling text. There is also the 'Re-Vu' function, which lets the listener quickly replay what they've just heard.
Length of the Re-Vu segment varies from station to station, but at best it's a few minutes and is suited mostly for hearing a favourite song again or repeating a traffic bulletin.