This article is more than 1 year old
Pure Highway in-car DAB radio
DAB in your motor, without breaking the bank
Other handy features include the ability to trim the station list, to adjust the order in which the stations appear and to leave the backlight on so the Highway's easily visible at night. The unit's software can be upgraded as and when Pure issues improvements or new functions - just connect the Highway to a PC with a Mini USB cable.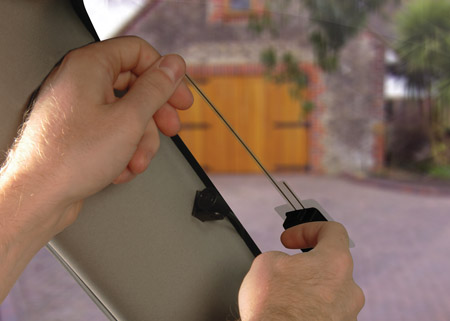 The Highway comes with its own windscreen aerial
The unit's capabilities to not end at DAB, as a line-in jack allows the machine to take digital files from a personal player and send them on to the FM radio in the same way as it does with the DAB signal. Sound quality here isn't as good as it is with DAB, but it does provide a really handy way of using your MP3 player in the car with out the need for multiple fM transmitters.
The Highway can also act as a handheld DAB radio, with around six hours of life from two AA batteries. OK, so this unit is pretty big to carry around with you on a regular basis - it's 122 x 70 x 29mm and weighs 156g - but the sound quality's still pretty good. It makes use of your headphones as an aerial.
Verdict
Pure's Highway, a really easy to install and use package, delivers all the joys of digital radio into a car. Sound quality on DAB is excellent, and the addition of the compatibility with personal music players might seem obvious, but it's no less welcome and no less useful for that. Retailing at around £70, its price is pretty keen too, and much cheaper than ripping your FM receiver out and retro fitting a completely new set-up.

Pure Highway in-car DAB radio
A good idea from Pure puts DAB in the driver's seat and returns the format to its... er... routes...