Taking the piste: Wii to bring skiing to the living room
And here's a Japanese lass to show you how...
If you're bummed about the coming end of the skiing season, then video games are the answer - in particular a skiing game that uses the Wii's new Balance Board add-on to send you sliding down the mountainside, virtually speaking.
Developer Namco Bandai said We Ski lets up to four gamers ski across virtual mountains while perched on the Balance Board – which gets released alongside Wii Fit in the UK this April. You use the Remote and Nunchuk to control your poles.
Not sure how it might work? Well, here's one Japanese lass seen giving it a go on YouTube:
Can't see the video? Download Flash Player from Adobe.com
We Ski has more than a dozen runs to choose from, ranging from simple bunny slopes to technical Black Diamond runs. Mii characters can be used in the game, so you'll always be clear over who crashed into that tree.
Accessories, such as goggles and poles, can also be unlocked for use later in the game.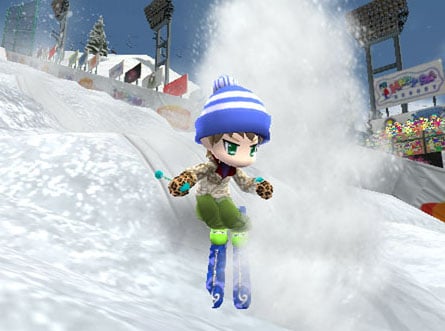 We Ski will use the Wii's Balance Board and Remote
The fun won't stop on the slops, because there's also a ski school if your skills aren't quite up to scratch, in addition to freestyle skiing and slalom events. You'll even be able to photograph your Mii as it carves up servings of fresh mountain powder. A night ski mode is built in, during which fireworks light-up the sky.
There's no mention of a lodge with roaring fire and bar, though.
Don't go rushing for your salopettes just yet, because We Ski will initially be released in the US in the Spring. A European date hasn't been announced yet and, because Namco Bandai is a third-party developer, the Balance Board will probably be sold separately.