Growth of Casio's Exilim digicam series shows no signs of slowing, because the manufacturer has crammed yet another model into the brand, offering a high number of megapixels in a colourful metal body.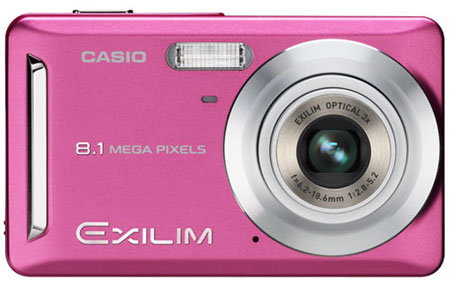 Casio's EX-Z9: 8.1 megapixels and 3x optical zoom in a colourful shell
The EX-Z9 has 8.1 megapixels and will be available in pink, black, silver and orange. Its 2.6in LCD display is slightly down on the 2.7in available with the existing EX-S10 and its optical zoom has also been dropped to 3x, compared to 4x on the rival model.
The EX-Z9 still manages to integrate 23 Best Shot modes, ranging from bright sunlight to sports. However, there's no mention of the aquarium mode available on Canon's SD870 camera. Casio's relationship with YouTube is obviously going well because the manufacturer has built the feature into the EX-Z9, allowing users to capture and upload content to the website in three steps.
All of the features that digicam users now expect as standard feature on the EX-Z9, including anti-shake and face detection. There's no mention of a smile capture feature, which is now becoming an increasingly common feature thanks to integration into cameras from Sony, Nikon and General Electric.
Casio's Exilim EX-Z9 will be available later this month for around $160 (£80/€125).