HP wants R&D to be serious business
Reorganises labs for fun and profit
---
Hewlett-Packard is measuring out business suits for its research and development arm, HP Labs.
The vendor is reshaping its prestigious - yet never terribly profitable - research arm to "balance exploratory research with an entrepreneurial approach", the company announced today during a press event at its Palo Alto, California, headquarters.
It's a results-oriented shift that officially marks the reign of HP Lab's new chief director Prith Banerjee, who arrived six months ago from the halls of academia.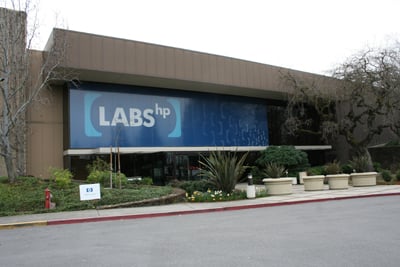 The new HP Labs. Well, the sign is new anyway.
Banerjee feels HP Labs has matured beyond the fancy-free days of letting its teams tinker on hundreds of small projects while letting marketable results slip by the wayside.
OK, the R&D house figured out ink-jet printing, thermal imaging, and some early pocket calculators - but what has it done for us lately?
Research and development will now be devoted to only about 20 to 30 "big bets" the company feels confident will deliver revenue in a timely fashion.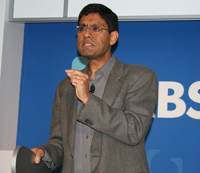 Prith Banerjee.
That means carving a lot of "fat" off the bone at HP Labs, although the firm won't say which projects are in for it. "We're in the middle of that decision-making process right now," Banerjee said. But the company wants to emphasise it's about boosting productivity and not culling its staff.
"This is not a cost cutting exercise," said Shane Robison, HP chief technology officer. In fact, both men claim the change will mean more funding towards research.
Banerjee breaks it down for us: HP Labs formerly had about 10 per cent of its resources dedicated to exploratory research, about 40 to 50 per cent devoted to advanced product development, and another 40 to 50 per cent towards applied research. The new deal splits its love into equal thirds.
But to limit the number of pipe-dreams being funded, HP said it's locking down a lax approval process. Previously, researchers practically only needed a thumbs up from a lab director before starting a new project. That process will now require an oversight board composed of HP researchers, technologists, and business executives to make sure the product can eventually make it to market.
The company will focus new projects on technology du jour (et tomorrow?). Research based on web-hosted applications, data management, converting media between digital and analog, and green technology will get heads nodding in the board room, HP assures.
HP Labs will also further open its doors to commerce. The company said it has developed a more aggressive programme to license out technical advancements it can't use. In addition, the lab promises to collaborate with venture capitalists and universities on forming technology joint ventures.
"In a way, we plan to inject startup DNA into HP Labs," said Banerjee.
Let's hope DNA has a good entry-to-market strategy then. ®
Similar topics
Narrower topics