This article is more than 1 year old
Mesh Ultimate Q8 Tri-SLI gaming PC
We've drooled - now it's time to see Nvidia's Tri-SLI in action
Review Everything about the Mesh Ultimate Q8 is imposing. The black CoolerMaster 832 aluminium case is 62cm long and 53 cm tall, and, according to our bathroom scales, weighs in at 22kg.
We love the industrial looks of the case and a visiting (bloke) neighbour thought it looked dead impressive, though the missis thinks it's one of the ugliest things she has seen in a long time. Beauty, as they say, is in the eye of the beholder.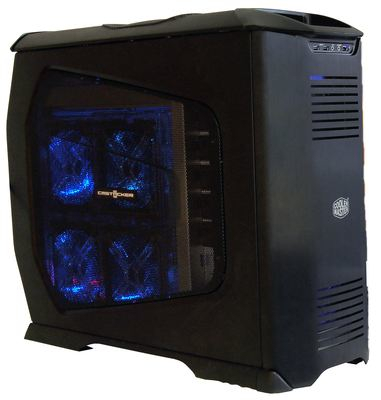 Mesh's Ultimate Q3: beautiful or butt-ugly?
The cooling abilities of the CoolerMaster case are fundamental to the Ultimate Q8 as it has the capacity to carry a huge array of fans. The top and side panels have large mesh sections that allow cooling air to flow freely. There's a fan at the rear of the case, one at the top and three of them in the side of the case above the graphics cards and processor.
Release a latch and lift off the side panel and you're faced with a door that can carry up to four 120mm fans arranged in a square pattern. Mesh has chosen to install three Akasa fans with blue LEDs that shine through the vented side panel to add some geek bling.
Inside the case, there's an EVGA 780i SLI motherboard with a Core 2 Extreme QX9650 processor that runs on a 1333MHz frontside bus. It's a 3GHz 45nm 'Penryn' processor that's cooled by a ginormous Intel heatsink that is very shiny.
Below the processor there's an angled cooler on the Nvidia 780i SLI chipset's northbridge and below that there are three Leadtek GeForce 8800 GTX graphics cards.
That's right, three graphics cards.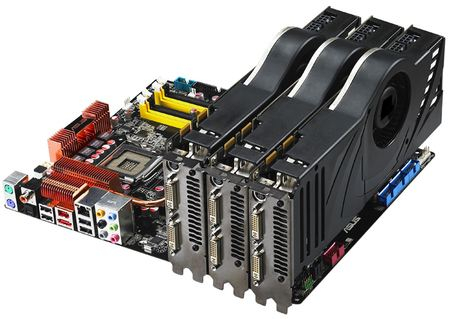 Two graphics cards not enough for you?
Because the Mesh Q8 is the first machine we've seen that implements Nvidia's Tri-SLI technology, part of that 780i SLI chipset. Tri-SLI allows you to gang up three GeForce 8800 graphics cards that use the 'G80' graphics chip - rather than the new 'G92' - on either a 680i or 780i SLI chipset-based motherboard with a suitable number of PCI Express slots.
As we say, the Q8 has three Leadtek 8800 GTX cards, each with a core clocked at 576MHz and with 768MB of memory that runs at 1800MHz.