Net wag endorses Playmobil Security Check Point
Amazon customer review merriment
One net wag has wasted no time making merry at the expense of the improbable but entirely genuine Playmobil Security Check Point, sadly currently unavailable down at Amazon.com.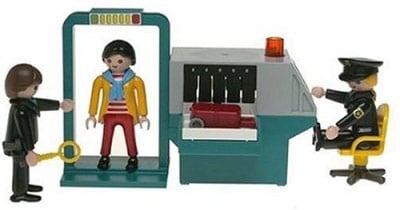 The manufacturer's blurb states: "The woman traveler stops by the security checkpoint. After placing her luggage on the screening machine, the airport employee checks her baggage. The traveler hands her spare change and watch to the security guard and proceeds through the metal detector. With no time to spare, she picks up her luggage and hurries to board her flight!"
Well, I can imagine my six-year-old daughter having hours of fun with this, and the following customer review pretty well seals the deal:
I was a little disappointed when I first bought this item, because the functionality is limited. My 5 year old son pointed out that the passenger's shoes cannot be removed. Then, we placed a deadly fingernail file underneath the passenger's scarf, and neither the detector doorway nor the security wand picked it up. My son said "that's the worst security ever!". But it turned out to be okay, because when the passenger got on the Playmobil B757 and tried to hijack it, she was mobbed by a couple of other heroic passengers, who only sustained minor injuries in the scuffle, which were treated at the Playmobil Hospital.

The best thing about this product is that it teaches kids about the realities of living in a high-surveillence society. My son said he wants the Playmobil Neighborhood Surveillence System set for Christmas. I've heard that the CC TV cameras on that thing are pretty worthless in terms of quality and motion detection, so I think I'll get him the Playmobil Abu-Gharib Interogation Set instead (it comes with a cute little memo from George Bush).
Marvellous. Personally, I'm going for the complementary Playmobil Heathrow Security Check Point queue (box of 500 angry passengers) and the al-Qaeda Glasgow Airport kamikaze vehicle set. The kids will love 'em. ®
Bootnote
Thanks to Graham Marsden for the tip-off.