This article is more than 1 year old
Xerox bets R&D future on pap
Don't dream or see us work
Having just encountered Xerox's top technology strategist for the first time, we're concerned that the company faces some very troubling issues in the years to come.
Like suckers, we expected a speech on "Innovation Strategies in a Global Economy" to touch on innovation strategies in a global economy - or at least something vaguely related to this general topic.
Sophie Vandebroek, Xerox's CTO, gave the presentation in question yesterday at the PARC campus in Palo Alto. PARC dealt Vandebroek a wonderful opportunity to address ways that research and development powerhouses can proceed in a well-connected, more competitive world. Rather than accepting that challenge, Vandebroek peppered the audience, made up largely of PARC researchers, with things they already know.
Vandebroek started the speech by confessing that she'd just crafted the slideware on a flight out to Palo Alto. We figured that was a bad sign since the PARC operatives demand that speakers at its public forums stick to their one-hour windows. The smell of waffle in the air raised alarms that little of substance would transpire in those sixty minutes.
The first twenty-five minutes of Vandebroek's talk covered Xerox's aspirations in the intelligent document space. The company now works on creating software that can read through documents, pulling out relevant information and context on its own. For example, Xerox software will examine signatures, paragraphs, graphics, statistics and word combinations and use that information to guide a document's path through corporate networks. The software will apparently sense that some paper is meant for the legal department and send it to the appropriate person, even going so far as to redact information automatically to meet compliance rules.
This topic has very little to do with innovation strategies in a global economy, but that didn't seem to concern Vandebroek.
Eventually, the CTO canned the advertisement - a weird exercise given that 60 per cent of the people in the audience worked at PARC, which does most of its business for Xerox - and then she pretended to tackle the innovation topic. She highlighted how Xerox focuses on the following ideas: "it's all about people, dream with your customers, open innovation, don't be afraid and have fun."
The Romper Room
So there we were at one of the most famed research labs on the planet - where things like the PC, Ethernet and laser printers had their start - and the CTO of Xerox took us through a Romper Room journey into in the trite and vacuous.
For example, Vandebroek bragged about Xerox's creation of a Second Life research and development center as one of the ways the company is encouraging openness. Unfortunately, only authorized Xerox folks can visit the site. Even worse, Vandebroek polled the 160 or so people in the audience to find out how many even use Second Life, only to discover three timid hands going into the air. Her jaw dropped in shock.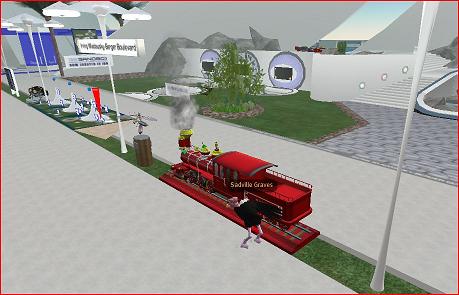 Nothing but pollution at IBM's Sadville lair - Xerox shot unavailable
During the "dream with your customers segment," she presented a quotation from Henry Ford - "If I'd asked my customers what they wanted, they'd have said a faster horse." That was an odd choice since Vandebroek was making the argument that companies should listen to their customers' needs rather than running off to try something off-the-wall. Wasn't Ford, in fact, suggesting that companies try something off-the-wall and imaginative for major success?
Vandebroek went on to display a map of Xerox's global research centers. She also showed a video interview - of herself!
And that was about it.
The most depressing part of the whole affair was Vandebroek's decision to avoid saying anything meaningful. The executive came off as a charming, bright and enthusiastic person. Her talk, however, was aimed not at researchers but rather schoolchildren who have never heard of Xerox.
With the US facing major research challenges from Europe, China and elsewhere, we'd have loved to see a pioneer such as Xerox lay out a more creative and compelling plan for the future. Instead we got a slide deck produced by a couple of gin and tonics on the plane.
Here's hoping Xerox has better ideas in store than a Second Life research center that no one can see. ®