This article is more than 1 year old
What survived the axe at HP Labs
Will Hurd face new boardroom lie detector?
Last week we reported that Hewlett-Packard's research arm, HP Labs, has undergone a restructuring process to better make a buck from its technology developments.
Along with the announcement, HP Labs erected some booths to let press and analysts ogle select projects that emphasize its newly-discovered bottom line.
Let's take a look.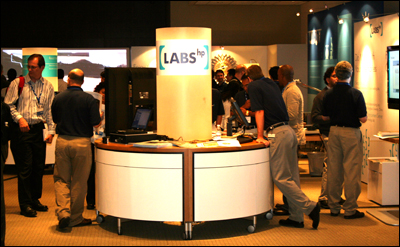 Facebubble: Have you seen this boy?
Our first booth at HP Labs is Facebubble, a facial recognition application developed to help organize family photography. The stand-alone app catalogs images based on the people contained in them.
After analyzing the photographs stored on a PC, a person who appears in multiple images is automatically assigned a button in the main menu. The more photographs that contain a particular person, the more prominently that button is shown. Clicking on the person serves up all the photos in which they are featured.
For instance, if we needed some photographs of baby Jeffery, stat: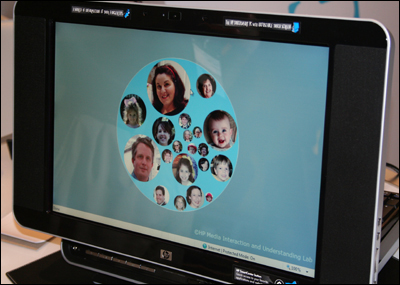 Clicking on the tot's grinning visage brings up all the photos the application recognizes him in.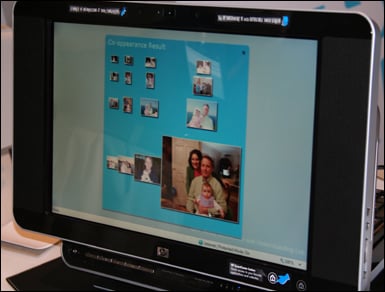 Ta-da. Ask me about my grandchildren 2.0.
HP admits the technology isn't perfect yet. Various forms of headgear can still fool the application, and getting the software to reliably recognize a person's appearance over several decades proves elusive.
The researchers also envision the application as a useful tool for online social networking. One day it could be easier than ever for a prospective employer to find photographs of you shirtless and drunk. Huzzah!
HP BookPrep: to serve man
A few other vendors have on-demand book publishing projects in the works, but the HP Lab angle is more about converting out of print books into a digital format.
BookPrep uses HP Labs imaging technology to take scans of old books and automatically clean up the image. Scanned text is flattened, and pages are tidied and brightened for consistent coloration.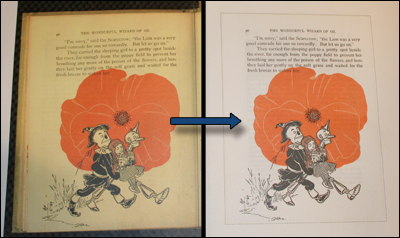 HP Labs says the platform would let publishers put books of yesteryear back into print with a greatly reduced upfront investment. And on-demand publication means vendors only need as many books as customers have already ordered.
HP also thinks there's a market for customized books. A person could scan in Aunt Flo's cookbook along with their personal improvements and additional recipes. Of course there would have to some restrictions on what HP will let customers change. Legal issues aside, nobody wants to open a copy of Harry Potter and see some hack's erotic fan-fiction attached in the center.
OK, maybe if it's tastefully done...