Amazon spills beans on upcoming SanDisk MP3 player
Whooops
---
Amazon's US website has let slip the specs and availability of the latest member of SanDisk's Sansa family of MP3 players - before the manufacturer has even announced the gadget.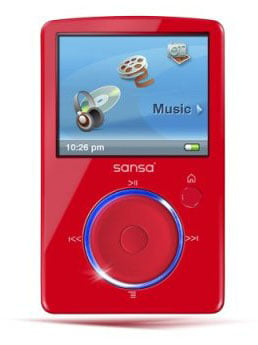 SanDisk's 4GB Sansa Fuze: specs blown
Called the Sansa Fuze, the 4GB player looks much like the existing Sansa View, but is much wider. It also looks a lot like an early Apple iPod. The Fuze has a 1.9in display, and plays music, video and audio books. It can also display still images.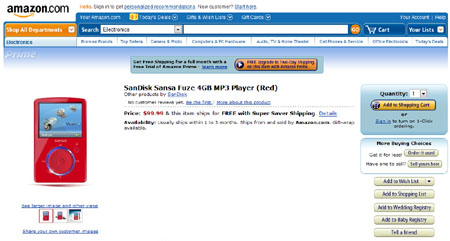 Amazon is shipping the Fuze in a few months' time
The specs published by Amazon state that the Fuze has a slot for Micro SD and Micro SDHC memory cards. This feature is bound to appeal to anyone annoyed by Apple's 'the capacity you buy is the capacity you get' mentality.
The Fuze's battery should hold out for 24 hours of pure audio playback, or five hours of video, the specs claim. A microphone is built in for voice recording, and the player has an FM radio too.
SanDisk's Sansa Fuze will be available in red for $100 (£50/€75). However, Amazon's website also shows that black and pink 4GB models will be released within one to three months.