ESA's space truck heads for ISS
Automated Transfer Vehicle is go
---
The European Space Agency's "Jules Verne" Automated Transfer Vehicle yesterday hitched a lift on a specially-adapted Ariane 5ES rocket from the Guiana Space Centre en route to "re-supply and re-boost" the International Space Station (ISS).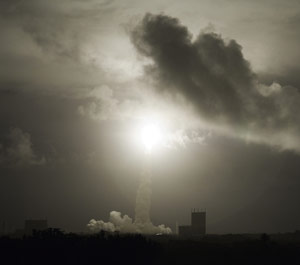 The lift was, at almost 20-tonnes, twice the payload previously carried aloft by an Ariane 5, and went without a hitch at 01:03 local (05:03 CET, 04:03 GMT) from the Guiana Space Centre in Kourou, French Guiana (see pic).
According to the European Space Agency (ESA), the "unusual launch trajectory" necessitated the deployment of "two new telemetry tracking stations, one on a ship in the Atlantic Ocean and one on the Azores Islands". After an initial eight minute burn over the Atlantic, the Ariane coasted for 45 minutes before a second "circularisation burn" above Australia. The Jules Verne ATV separated at 02:09 local (06:09 CET, 05:09 GMT).
The space truck is now under the control of the ATV Control Centre in Toulouse, France, which will guide it towards the ISS for a first "docking slot" scheduled for 3 April.
The Jules Verne is described as the "largest and most sophisticated spacecraft ever developed in Europe, combining the functions of an autonomous free-flying platform, a manoeuvrable space vehicle and a space station module".
ESA explains: "About 10 metres high with a diameter of 4.5 metres, it weighed 19,357kg at launch. It incorporates a 45m3 pressurised module, derived from the Columbus pressure shell, and a Russian-built docking system, similar to those used on Soyuz manned ferries and on the Progress re-supply ship."
For its first mission, the Jules Verne is carrying 4.6 tonnes of useful payload to the ISS, including "1,150kg of dry cargo, 856kg of propellant for the Russian Zvezda module, 270kg of drinking water and 21kg of oxygen".
Space Shuttle Endeavour, meanwhile, is scheduled to lift off tomorrow at 02:28 EDT (06:28 GMT) from Kennedy Space Centre. Mission STS-123 (summary here [pdf]), will deliver the first section of the Japan Aerospace Exploration Agency's Kibo lab and the Canadian Space Agency's "Dextre" two-armed robotic system to the ISS. ®