Wii gamers draw bead on laser-sight crossbow add-on
Stick 'em up
---
Wii peripherals are ten-a-penny these days, but until today none of them have had us living in fear. However, a new crossbow designed for one of the console's shoot-'em-ups could be taking things too far.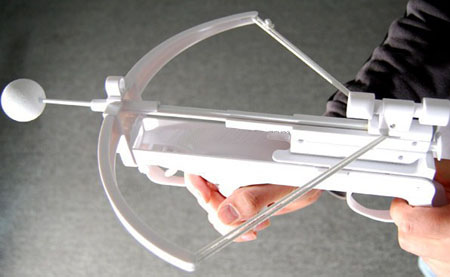 The Laser Sight Crossbow: twaaaaang
The Laser Sight Crossbow does exactly what it says on the tin: it's a crossbow and it has a laser sight to help you aim your shots. The Wii's Remote slots into a crevice underneath the bolt and tensioned cord.
It's designed for the title Link's Crossbow Training, which already uses the notorious Wii Zapper. Although it's not clear if the weapon actually shoots its bolt, safely-rounded though its end may be. However, a tensioned cord and twin triggers certainly give the handheld ballista a menacing look.
If a crossbow is exactly what's missing from your arsenal of Wii weaponry, then the Laser Sight Crossbow is available now online for around $28 (£14/€20).