HP Compaq 2710p tablet PC
Could be a contender
---
Review The tablet PC may never have come close to achieving the success Microsoft hoped for when it launched the concept a few years back, but these transforming laptops have won a solid audience.
Unfortunately, with many tablet PCs the inclusion of a screen that can be operated with a stylus but not a finger hasn't done anything for usability, and the bid to keep the machines light enough to balance on a scrawny arm often leads to a big compromise in other areas.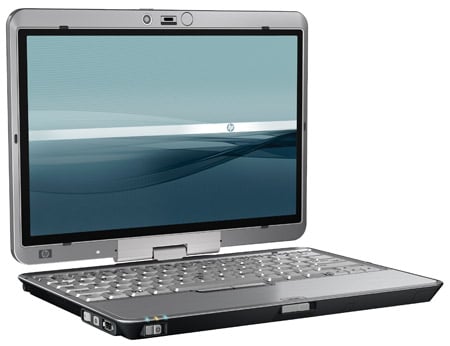 HP's Compaq 2710p: excellent mix of comfort, style and build quality?
The latest tablet to come to market, HP's Compaq 2710p, may change this, offering as it does an excellent mix of comfort, style and build quality, along with its digitised screen.
The display measures 12.1in, and has a matte finish that's great for use on the road. It doesn't show up reflections or grubby fingerprints easily, yet it still offers sharp and vivid images. There's a slight haze to it, as with all such panels, but it doesn't affect colour reproduction.
The screen has a resolution of 1280 x 800, which is standard for a laptop of this size. There's plenty of space to open a couple of windows side by side, and the screen also looks particularly crisp when viewed in portrait orientation. It's easy to view from angles other than head-on, which is a bonus when doing presentations in tablet mode.
Corporate users may be unhappy to see the presence of Windows Vista, but if its inclusion is frustrating for slowing the system down, it's definitely welcome for the pre-installed handwriting recognition software. There's a learning function that allows the software to pick up your style of handwriting, but even with this turned off we found it recognised our scruffiest scribbles most of the time. Microsoft's OneNote is included as standard, and it's more than adequate for adding text or notes to documents, the job it was designed to do.