Following the recent news that the government's popular Science and Technology Facilities Council (STFC) has decided to pretty well destroy UK radio astronomy, we're saddened to note that Jodrell Bank observatory is up for sale on eBay: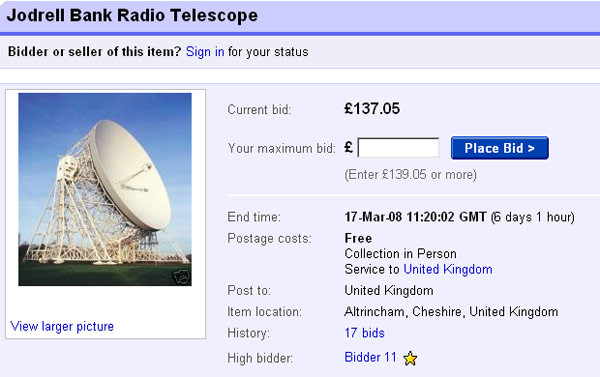 The blurb elaborates: "Despite the fact that $8 million has already been spent on establishing the Merlin Network which links seven UK based telescopes at the centre of which is the Jodrell Bank facility, the plug is being pulled on the project and the assets are being disposed of."
Potential buyers among you are advised that you'll have to collect Jodrell Bank in person, but that once you've got it shifted and reassembled at home you'll discover that it "works via the car's 12v cigarette lighter adaptor", gets "great Sky TV reception – no need for any dodgy cards" and doesn't require a licence. ®
Bootnote
We were going to run a light compo to see if readers could come up with a better name for the STFC, but then we overheard some morose boffin in the pub bemoaning: "SFTC? Science-Trashing F**king C**ts. Can you lend me a tenner until my dole cheque arrives?"