Score one for Kevin Martin, the chairman of the US Federal Communications Commission. Clearly, he realizes that Comcast deserves a slap.
On Friday, The Wall Street Journal reported , Martin said he was "troubled" that the big-name American ISP "initially denied it was slowing or blocking its broadband Internet customers' access to a file-sharing peer-to-peer software application."
An independent researcher named Robb Topolski first accused Comcast of busting BitTorrents back in May, but the company spent several months refusing to acknowledge the practice, and even now, it only half-admits to the cold, hard facts.
"A hallmark of what should be seen as a reasonable business practice is certainly whether or not the people engaging in that practice are willing to describe it publicly," Martin proclaimed, during a speech at the Stanford University Law School.
Which means that Martin has separated the sense from the nonsense. As we've said before, the issue is not whether Comcast has a right to "reasonable network management". The issue is whether Comcast has a right to treat its customers like idiots.
The FCC has launched an official investigation into Comcast's BitTorrent busting, and last month, the commission hosted a public hearing on the matter. As part of its ongoing effort to reinvent reality, Comcast hired dozens of people to attend the hearing on its behalf - then told The Reg it hadn't.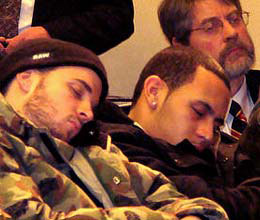 Sleeping Comcast meat puppets
Martin didn't actually say that he would slap Comcast. And he still needs the approval of other FCC commissioners to do so. But you can bet it will happen. ®
Bootnote
With his speech, Martin also said he was pleased with the The Great American Wireless Auction. In auctioning off the so-called 700-MHz spectrum - a prime portion of the US airwaves - the FCC has raised over $20bn, and new commission rules have ensured a decent chunk of the spectrum will include an official "open access requirement."
Many have worried that the winning bidder will stop well short of providing access to any device and any application. But Martin says not to worry. The FCC will find ways of enforcing open access.
Similar topics