Archos TV+ 250GB streaming media player
Very, very disappointing
---
Review On paper, Archos' TV+ looks like a very exciting product, combining a media streamer, a digital video recorder and the ability to display content from the internet on your TV. In theory, it's everything you could want from a set-top box.
The reality, however, is somewhat different. The first and perhaps biggest problem with the TV+ is that it doesn't support HD. That's right, a product that's supposedly the cutting edge of TV technology and the best it can do is plain old standard definition (SD). The inclusion of HDMI and component-video ports are completely wasted, and you might as well just hook it up to your TV via Scart. It won't even play any content that's bigger than standard definition, let alone downscale it.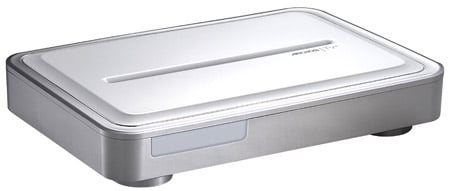 Archos' TV+: everything you could want from a set-top box - in theory...
Unfortunately, it doesn't have any Scart connectors. Instead, you have to use two supplied adaptor cables to hook the box's 12 RCA connectors to a Scart port. While that's a pain, it's nothing compared to the horror of trying to get the TV+ set up to record TV shows.
The second shocking omission for a product released in 2008 is the lack of an internal digital tuner. Instead, you have to hook it up to a separate set-top box if you want to be able to record programmes. When Tivo launched eight years ago, this was acceptable, but now it's unheard of.
Like the Slingbox, the Archos does have an infrared transmitter so it can control other boxes as if it were a remote control unit. The only problem is, the transmitter doesn't come at the end of cable as the Slingbox's is. No, it's mounted into the front of the TV+. So unless you arrange all your boxes in a circle facing each other then it's going to have a hard time switching channels.
In fact, to enable the TV+ to reliably change channel on a Freeview box, it was necessary to angle both devices so they where pointing straight towards each other - hardly the sort of set-up you'd want permanently in your living room.