This article is more than 1 year old
Beeb's DAB failfest 'costs £25 per set'
20th time lucky?
The New Year has seen another BBC TV campaign to persuade radio listeners to move to digital. This means moving to DAB, the obsolete broadcasting technology the world has snubbed, and Britain has, too.
Thanks to Steve Green, we can begin to gauge the extent of this campaign.
The latest salvo is the corporation's 20th effort to persuade us to switch to DAB, he notes. Steve calculated how much this would cost if the DAB campaign had to pay the going rate for advertising, in a feature for Hi-Fi World, where he's a columnist. But that was over two years ago; he's now updated the sums.
If the ad campaign is measured in terms of commercial advertising rates, the cost would be £163m. Since 6.5 million DAB sets have shifted, this is the equivalent of £25 per set.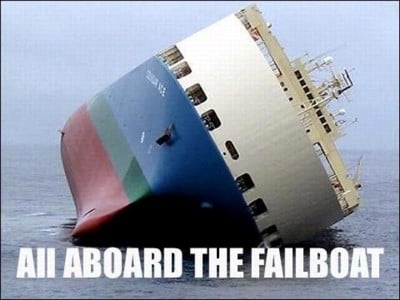 Landfill... DAB... roll your own caption
But the difference now is that DAB is obsolete, and about as attractive as jumping on the Titanic as it leaves port. Today's digital radio sets can't be updated to use more efficient codecs, such as AAC+, and are incompatible with the successor to DAB, DAB+, that much of the rest of the world is eyeing. So why the relentless promotion?
Well, DAB has to be the best thing to happen to the Corporation in the past decade. It screws commercial radio rivals, who hand over £100,000 for a property (licence), and then must give the "penthouse suite" back to the public broadcaster. The paltry audiences for DAB mean the commercial operators must bleed red ink, while the BBC runs its own deeply subsidised digital broadcasts. Trebles all round!
That's why you're unlikely to hear the true extent of the digital radio fiasco on the Beeb itself, and why the digital propaganda is likely to continue - as relentless as those exhortations to "Send us your views".
Urging the public to buy obsolete technology is absurd at any cost: the BBC should suspend this expensive campaign of deception, and get level with the public. ®
You lot seem to have the measure of DAB, judging by your feedback - many thanks for that.