Devolo preps satellite TV-over-mains kit
Coax out, powerline Ethernet in
Networking specialist Devolo has come up with a new gadget that'll let you stream a satellite TV feed around your home's mains wiring to TVs and PCs in other rooms.
The dLAN TV Sat sits between the link from a satellite dish and the mains. It has a built-in 200Mb/s HomePlug AV powerline Ethernet adaptor that connects to another adaptor elsewhere in the home, hooked up to a PC.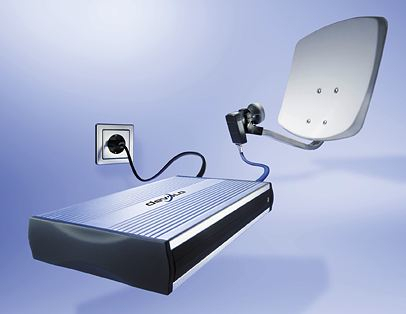 Devolo's dLAN TV Sat: satellite telly over the mains
The dLAN TV Sat's receiver is compatible with the DVB-S2 standard, which is currently being used by the likes of Sky to transmit HD content. Not that the Devolo product will necessarily allow you access all that Sky has to offer, but it can pick up unencrypted free-to-air transmissions.
An aerial splitter should allow you to use your dish to feed both the dLAN TV Sat and a Sky HD box in your living room, so you can watch there - and on your PC in the spare room. Devolo provides the software you need to watch and record programming on your computer - Windows XP and Vista only, alas.
It's also a PC-only system. The data coming off the network isn't the original DVB-S2 stream, so you can't use a CAT5-to-coax adaptor to feed a second TV or set-top box. It's a point-to-point link to, so it's not for sharing signals and multi-room streaming.
The dLAN TV Sat should be available soon. There's no word yet on pricing.
Related Reviews
• Devolo dLAN Wireless Extender
• Solwise Simple Connect powerline Ethernet adaptor