Boffins demo OLED-on-a-roll production process
Cheaper flat-panel TVs coming
General Electric scientists have worked out how to manufacture OLED displays on a roll, a process that they hope will one day allow panels to be punched out cheaply and cut to size like cloth.
So far, GE's researchers have simply demonstrated such an approach is possible. But they believe that, with further development, the technique could soon result in vast sheets of OLED materials flowing out of production plants and wrapped onto large rolls ready for shipment.
OLED panels sandwich organic compounds between two electrodes. When a charge is placed across the electrodes, the organic compounds emit light. Different compounds produce different colours of light, and by building cells out of these structures, it's possible to build a full-colour display.
It's a technology widely seen as the successor to today's LCD and plasma screens. OLED produces bright colours and uses much less energy to do so. However, big OLED panels are very costly to produce and right now don't last as long as LCD and plasma before their image quality degrades.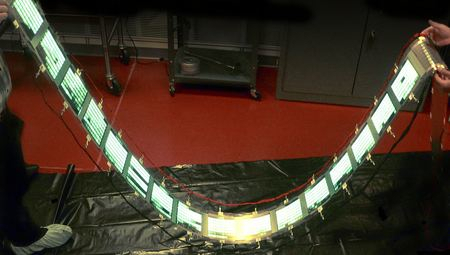 GE boffins unroll rolled-up OLEDs
GE's process seeks to address the first of these two challenges: to get the cost of manufacture down. The industrial giant said it has spent $13m showing such a 'roll-to-roll' approach is possible.
GE is well known for its lighting products, and that's where its interest in OLED lies rather than display panels. However, it said its research will help the production of both types of OLED, and others.
The company's vision is to replace lightbulbs and fluorescent tubes with light-emitting sheets that, because of their size, deliver more light but at much lower power than today's lighting systems eat up.
Four years ago, GE demo'd a 60 x 60cm OLED panel capable of producing as much light as a modern incandescent bulb. It wants to begin commercialising such products in 2010.
Special Report: Telly vision - future display technologies