This article is more than 1 year old
New NetApp logo already used by lubricating genie shop
'Our generic N is storage safe'
Workers at Novatio stores throughout Holland may have been perplexed this week, as flocks of heavyset punters wandered inside to inquire about the latest in NAS boxes.
Little did the automotive supply company realize that across the ocean NetApp was busy reinventing itself with an all-too-familiar logo as its new crowning glory.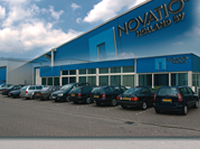 Images courtesy Novatio website
This Monday, storage colossus NetApp jumped into the spotlight to reveal a multi-million-dollar image overhaul that featured . . .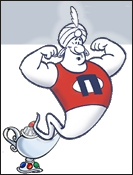 The Novatio genie
Well, the firm describes its new logo as a "bold blue gateway," leading to new possibilities, ideas and perspectives. It resembles a blocky pair of slacks to us. But to be fair, we never graduated from design school.
A vigilant Reg reader sent us word this morning to check out Novatio's Dutch branch. Does that logo look a familiar?
Turns out Novatio's main office in Belgium has been using the graphic in question to sell its catalog of glues, de-greasers, cleaners and lubricants. They've even got a muscular genie in on the act. So, NetApp's new bold blue gateway may in fact be the front entrance to a scorpion pit of trademark difficulties.
We're awaiting a return call from Novatio on the matter.
Let this be a lesson: when a design team sells you a generic, non-descript lower-case "N" for international branding, ask for a few extra flourishes. A distinctive serif even. Anything.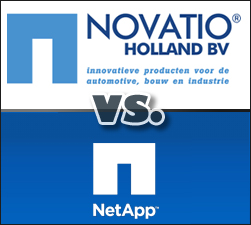 Elisa Steele, NetApp senior veep of cooperate marketing, is unconcerned:
NetApp is in the storage and data management business, selling to enterprises with these needs. Another user in an unrelated industry could be using a similar logo and there is no infringement because of the different industries. The NetApp logo is trademarked and following the process for global registration.
Lawyers for the Arc de Triomphe and Stonehenge were last seen kicking the dirt dejectedly. ®
Bootnote, ya wisenheimers
Color inversion? Au contraire!
The NetApp logo swings both ways: