Nyko beats Sony to PS3 rumble controller release
Zero ships ahead of DualShock 3
The impending Western release of Sony's DualShock 3 controller has been overshadowed by accessory maker Nyko, which has unveiled a shockingly similar looking rumble controller for the PS3 just weeks before Sony's official offering goes on sale in the US.
Sony has already confirmed that the long-awaited DualShock 3 will be released in the US on 15 April, but Nyko's Zero PS3 is already available from its website.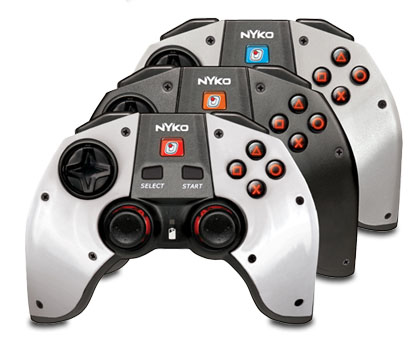 Nyko's Zero PS3: rumbles in ahead of Sony's DualShock 3
The Zero PS3 isn't perhaps as stylish as Sony's controller, but Zero has the core requirement nailed down: wireless connectivity and rumble gaming. It's also got backlit LED buttons, which should be useful during late-night gaming sessions, and a battery pack that provides up to 25 hours of gaming time, Nyko claimed.
The controller works at up to 30 feet away from the PS3 and there are three colour options to choose from: black, white and silver.
The DualShock 3 controller will be available as a separate unit or can be bought with a special Metal Gear Solid 4 80GB PS3 bundle pack, which will be released in the US during Q2 for $499 (£249/€299). A UK release of the bundle hasn't been announced.
Nyko's Zero wireless controller is available online for $60 (£30/€45), whereas Sony's DualShock 3 is expected to cost about $5 more.