Palm Centro smartphone
Treo goes mainstream
Review Palm's been making its smartphones less like a clunky PDA and more like a regular, slim handset with each new model. The big step forward was the Treo 600. Now comes the latest version, this time with a new name as well as a new look.
Superficially, the Centro looks like Palm's other 'new design' smartphone, the Treo 500 - reviewed here. There's the same oblong shape with curved corners and the same silvery band across the middle with screen above and Qwerty microkeyboard below.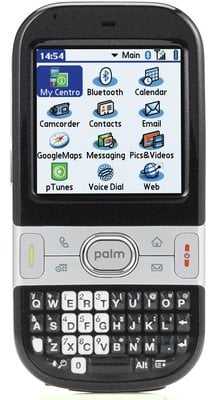 Palm's Centro: more candybar then ever before
But while the Centro is a couple of millimetres thicker than the 500, it's slightly shorter and much narrower, making it Palm's most candybar-like device to date. Oh, and very comfortable in the hand.
At the centre of the band is a curved-corner oblong - see a theme here? - five-way nav control. The call make and break keys sit at either end. In between, the band forms four buttons - on the Centro, moving clockwise, for the Palm OS apps menu, email, calendar and the main phone UI.
The band wraps around the side of the handset where it forms a second loop running up over the top, down the other side, round the base - home to a 2.5mm headset socket and the latest version of Palm's 'standard' connector - past a lanyard anchor and up again. There's an infrared port on the right side, volume keys on the left and, on top, Palm's customary - and still very welcome - mute-the-ringer switch.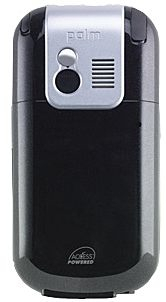 A 1.3Mp camera, yesterday
From the top the phone, the silver band forms a short strip that folds over the back of the device to house the 1.3-megapixel camera, self-portait mirror and speaker grille. To the right of it there's a black plastic stylus, and beneath the rest of the back panel slides away to reveal the battery. Below that sits the SIM card tray.