Palm Centro smartphone
Treo goes mainstream
---
A quick word about the Centro's screen. Yes, its pixel count is the same as the 680's but it's smaller and therefore squeezes in more dots per inch. That makes for a crisper, neater, smoother look that's way ahead of the jaggy-ridden text and graphics you'll see on the Treo 500.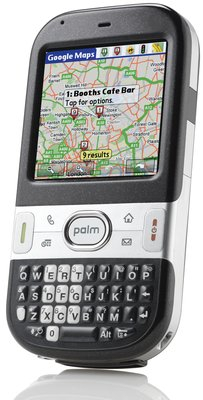 Google Maps: where do you want to go today?
The Centro's display is also touch-sensitive, unlike the 500's, so you can tap on the Phone app's dial pad if you like, but we found it easier to pull up contacts' numbers or type new ones in on the keyboard. The Qwerty layouts keys are smaller and more closely packed than they have been on any Treo keypad to date, but it's still usable - just. Typing with two thumbs remains relatively easy, but single-thumb tapping, as you well might if you're used to texting on a regular handset, requires a feat of manual dexterity beyond our stubby digits.
Palm could have helped here, by giving all the Centro's keys a different hue, not just the number keys. As is stands, all you've got to distinguish one key from another the letter printed on it.
The Centro's been equipped with a comprehensive array of apps, and while there are no games out of the box - odd, given the more youthful customer Palm's aiming at - you can download a couple for free. But they're Sudoku and Solitaire, not the kind of thing you'd expect to appeal to 'the kids'.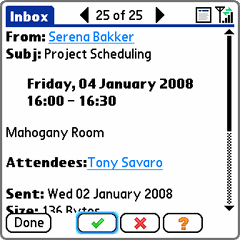 Better-than-iPhone email
More useful is Google Maps, a tool that really will prove essential for anyone who has access to it, sooner or later. Palm's VersaMail email app and Blazer web browser are solid tools, but they're showing their age. VersaMail supports a host of email account provides, from ISPs to the big names, and is far superior to the iPhone's Mail - something for which Apple has no excuse.