Palm Centro smartphone
Treo goes mainstream
---
While individual apps may lack lustre, together they make up a decent phone application suite. As usual, DataViz' Documents To Go comes pre-installed ready to read and edit MS Office and text files, and to view PDFs.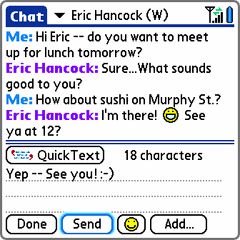 IM-style text messaging
The Palm OS has a UI that's consistent between apps and because it feels no need to ape a desktop UI - hello, Windows Mobile - it's easy to use and new users should be able to pick it up quickly. If they run into trouble, Palm's put a stack of useful info into the Centro User Guide, now included on the phone itself, and about time too.
All the Centro's key features can be accessed through the main app, Phone, and unless you start probing the Palm OS' more esoteric options, your stylus is likely to remain firmly docked.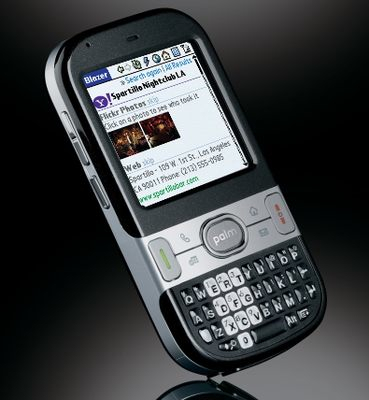 Stylish
Finally, call quality was as good as we've ever heard on a Treo, so no complaints there. Nor about battery life, which yielded the usual two-day usage period between charges. Serious natterers should note that Palm claims a four-hour talk time, which puts it a little behind the curve these days.
Verdict
We like the Centro. We've always preferred the Palm OS to Windows Mobile, but it's the form-factor and the styling that make the Centro a winner. Feature-wise, it's not bad either. The apps Palm has bundled are good, though they're largely the ones it's always included with its Palm OS devices. The company really needs to be more imaginative to catch the eye of the target audience. And include earphones. And a memory card.
The trouble is, we reckon those folk will be more interested in the much sexier iPhone, which is only £70 more up front yet has a much better web browser, a far superior music and video player, generally better apps and features, and Wi-Fi. It seems pricey but if you figure you're buying a new iPod into the bargain, it's not so bad.
All of which may make the Centro, good though it is, a tough sell.

Palm Centro smartphone
Centro's slim, stylish and a joy to use, but Palm's apps are showing their age, and the hardware bundle should be better.