Samsung kills second-gen Blu-ray, HD DVD combo player
No release for the BD-UP5500
Samsung has knocked its dual-format HD DVD and Blu-ray Disc player line on the head. In a statement, the Korean consumer electronics giant said: "In light of recent announcements, Samsung will not introduce the BD-UP5500 Duo HD Player."
Recent announcements include those from major studios who'd previously backed HD DVD but are now re-focusing on Blu-ray. All of these derive from Toshiba's decision to end production of HD DVD hardware, affectively pulling the rug from under the format's feet.
"Samsung believes that a multi-format player like the current BD-UP5000 Duo HD player offers the best and only solution for consumers that want access to all available high-definition titles in the short term. It remains a practical solution, but the window of opportunity is smaller than it was before."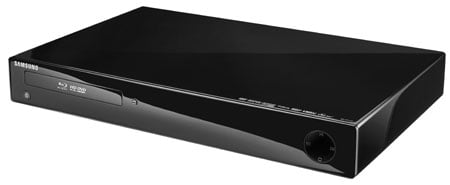 Samsung's BD-UP5500: fully interactive, very shiny... but now defunct
Samsung launched the BD-UP5500 at the Consumer Electronics Show (CES) in Las Vegas this past January. The machine's the follow-up to the company's first dual-format machine, the BD-UP5000, which lacked support for Blu-ray technologies Bonus View, for picture-in-picture commentary mode, and BD Java, for on-disc interactive applications.
The BD-UP5000 is still available in the US, but despite being formally launched in Europe back in September 2007, it has yet to make it to the UK. With the decision to can its successor, it probably never will now.
Amazon.com was today listing the older model for $500 - half the list price. That's about the only way it can compete with the purchase of a standalone BD player and a cheap HD DVD box. LG's dual-format rival, the BH200 Super, is likewise being heavily discounted now there's no mileage in charging a premium for a system that can handle both formats yet take up less room than two standalone boxes.
Special Report: Obituary: HD DVD 2002-2008