Thumb-ring accessory points to handset harmony?
A TAD silly?
If the condom-like iPhone Phone Finger passed you by then check out the latest phone-oriented finger-enhancing accessory, the TAD.

TAD: Choose a colour, then pick a pointer
Each TAD compries a silicone ring that can take one of three different plastic pointers. These can be selected according to device and function: for example, the pointy one might be best suited to touchscreens, while the rounded pointer is best used for texting.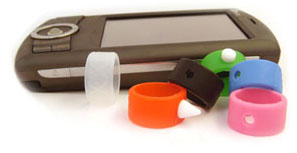 Can TAD ease your texting woes?
What's the point? According to the sales website, the TAD protects long nails during mobile phone texting sessions or whilst using a remote control. It also helps reduce wear on keypads, provides accurate selection when working with small buttons, and even eases pain for Arthritis suffers – although we'll be speaking to the Arthritic Association about that claim.
The TAD, which is still patent pending in the UK, is available online in a selection of colours, including blue, pink and black, and a choice of three three finger sizes from 14mm (kids) to 18mm (grown-ups).
Each TAD costs £3 (€4/$6).