This article is more than 1 year old
Cassini survives 'in your face' Enceladus flypast
Returns pics from close encounter
NASA's Cassini spacecraft has survived an "in your face" flyby of Saturnian moon Enceladus designed to collect data on geysers spewing water vapour and other matter from giant fractures at the body's south pole.
Cassini on Wednesday skirted the geysers' plumes at a tad over 51,000km/h (32,000mph) at a height of 200km (120 miles), passing just 50km (30 miles) above Enceladus's surface at closest approach.
During the "sniff and taste" of the plume, the craft deployed its Cosmic Dust Analyzer and Ion and Neutral Mass Spectrometer, although all did not go exactly according to plan.
NASA elaborates: "An unexplained software hiccup with Cassini's Cosmic Dust Analyzer instrument prevented it from collecting any data during closest approach, although the instrument did get data before and after the approach. During the flyby, the instrument was switching between two versions of software programs. The new version was designed to increase the ability to count particle hits by several hundred hits per second.
"The other four fields and particles instruments on the spacecraft, in addition to the ion and neutral mass spectrometer, did capture all of their data, which will complement the overall composition studies and elucidate the unique plume environment of Enceladus."
While we'll have to wait to see whether the data points to "water ocean or organics" below the surface of Enceladus's south pole, NASA has released some pics captured during the close encounter, including this three-image mosaic* of the opposing northern polar region: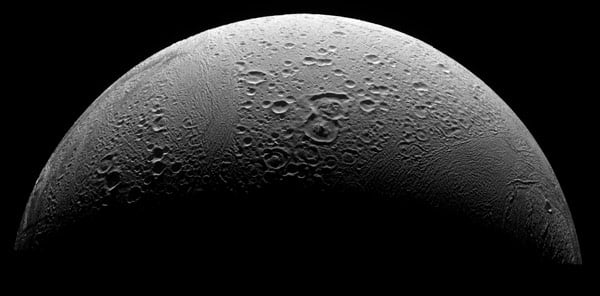 NASA explains: "New images show that compared to much of the southern hemisphere on Enceladus - the south polar region in particular - the north polar region is much older and pitted with craters of various sizes. These craters are captured at different stages of disruption and alteration by tectonic activity, and probably from past heating from below. Many of the craters seem sliced by small parallel cracks that appear to be ubiquitous throughout the old cratered terrains on Enceladus."
Carolyn Porco, Cassini imaging team leader at the Space Science Institute in Boulder, said: "These new images are showing us in great detail how the moon's north pole differs from the south, an important comparison for working out the moon's obviously complex geological history.
"And the success of yesterday's daring and very low-altitude flyby means this coming summer's very close encounter, when we get exquisitely detailed images of the surface sources of Enceladus' south polar jets, should be an exciting 'next big step' in understanding just how the jets are powered."
Cassini is scheduled to make three further flybys of Enceldaus this year - the next in August - and NASA hints it may get even more "in your face" in future. The spacecraft's prime mission to probe Saturn and its environs ends in June, but the agency mentions "a proposed extended mission would include seven more Enceladus flybys". ®
Bootnote
*The NASA blurb explains: "The image was taken in visible light with the Cassini spacecraft narrow-angle camera on March 12, 2008. The view was acquired at a distance of approximately 32,000km (20,000 miles) from Enceladus and at a Sun-Enceladus-spacecraft, or phase, angle of 115 degrees."