Astronauts in seven-hour ISS construction session
Canadian robot grappled by spacegoing veterinarian
---
Space Shuttle and International Space Station (ISS) astronauts have completed a seven-hour spacewalk and robot-arm session, in which a number of construction and assembly tasks were completed. Part of Japan's "Kibo" ISS module was plugged in, a malfunctioning 12-foot tall 1.5-tonne Canadian robot was hopefully whipped into shape, and a Passive Common Berthing flange was pulled off.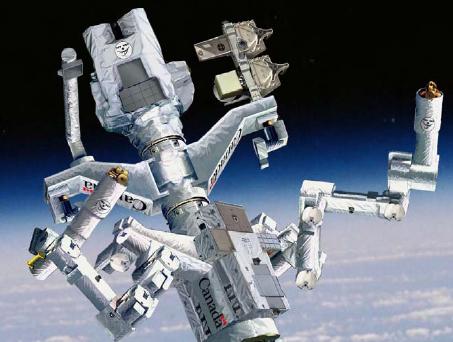 Two arms, three tools, 12 feet high but oh so delicate: robots are better than people.
Two astronauts worked in spacesuits, while another pair operated the Shuttle Endeavour's cargo-bay robot arm. The manipulator duo was led by shuttle commander and US Navy pilot Dom Gorie, assisted by Japanese astronaut Takao Doi. The extra-vehicular pair were shuttle specialist Rick Linnehan, who (handily) is a fully-qualified vet, and ISS engineer Garrett Reisman.
The two spacewalkers, having prepared the "Kibo" lab's pressurised logistic module before it was "grappled" by Gorie's robot arm and snapped into place, then carried out tasks involving external camera systems and berthing flange collars.
Following these efforts, the intrepid astro-construction men fitted "Orbital Replacement Unit tool" mechanisms to "Dextre", the mighty Canadian robot shipped up to the ISS aboard Endeavour.
Dextre is officially called the Canadian Special Purpose Dexterous Manipulator. It is supposed to be moved around the outside of the ISS on the end of a massive articulated arm, Canadarm2, which has already been fitted to the space station. The mighty tonne-and-a-half robot has two 11-foot arms of its own, video cams, lights, and "three robotic tools" with which it can "perform delicate human-scale tasks", it says here (pdf, p54).
This will allow maintenance and so on to be done without time-consuming, potentially dangerous spacewalking by human astronauts.
At present, unfortunately, Dextre doesn't work.
"Initial attempts to route power to Dextre were not successful Thursday," according to NASA, and the partly-assembled Dextre has been "temporarily parked on the station's truss".
The plan is to grapple the recalcitrant robot with the Canadarm2 later today. "With Dextre grappled to the arm, the cabling path that is believed to be causing communications interference will not be in the loop", apparently, and "it is expected that normal communications will then be established."
Spacegoing veterinarian Linnehan and his fellow shuttle specialist Michael Foreman will perform a further spacewalk tomorrow to fully sort Dextre out. ®