This article is more than 1 year old
Google Sky brings the heavens to a browser near you
Unshackled from Google Earthly bounds
Google has unshackled its heavenly Google Sky from Google Earth and made it available to the hoi-polloi through any web browser: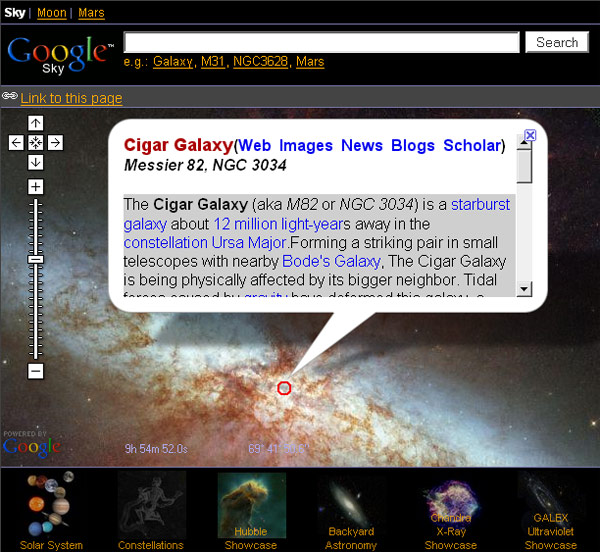 The material on offer includes some nice Hubble snaps, Chandra X-ray, GALEX Ultraviolet and Spitzer infrared showcases, and a historical layer showing how past generations viewed the vast majesty of space. There's more, including an ominous-sounding "Earth & Sky Podcasts" button, but we decided not to open the airlock doors on that particular piece of Web 2.0.
The big advantage of the new offering is that it'll allow users to share simple links, rather than the .kml files used to disseminate Google Earth locations. The disadvantage is, on first look, that the web-based version runs a lot slower than its Google Earth app counterpart - similar to the difference in performance between the latter and Google Maps.
Nonetheless, if you'd rather be sucked screaming into a black hole than download an application from the world's fave search monolith, then this alternative offers hours of fun for all the family. Happy intergalactic surfing. ®