This article is more than 1 year old
Wacky Apple patent application shows dual-screen 'iPhone 2.0'?
No.
Now and then a wacky patent application comes to light that combines futuristic technology with a cutting-edge gadget. An number of such applications have been revealed online, all from Apple and including one that's World+Dog is claiming could be a twin-touchscreen clamshell iPhone.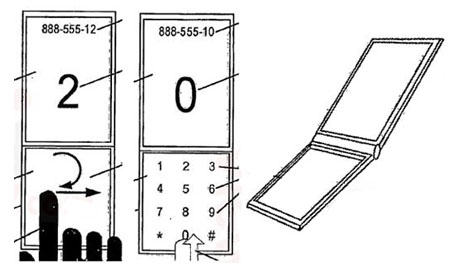 Apple's dual touchscreen clamshell handset sketch
The various applications, none of which have apparently yet been granted, were filed in the US and date back as far as 2002. The submission that's got iPhone fans salivating is dubbed "Dual-sided trackpad" and includes sketches for a clamshell handset with two touchscreens, one of which is transparent.
The design shows a two-part device - the lower half comprises the transparent touchscreen, which folds over the primary display. Because the fold-up panel's see-through, you can still view the main display when the phone's closed, interacting with it by tapping on the cover.
Open it out again and the lower half of the handset becomes a display and touchpad in its own right.
The need for a secondary transparent touchscreen baffles us, and hiding the required electrical connections would be a technical nightmare.
In theory, the design could enable users to hold a video conversation on the gadget's top screen, while using the transparent touchpad below for, say, surfing the internet.
But that's easy enough now with the iPhone's large, touch-sensitive screen, and it's hard to see the handset's slick UI working as well on a twin-display handset, especially since the clamshell form-factor would presumably have been selected to keep the size of each display down.
So no, we can't see this as iPhone 2.0, no matter how many intriguing Photoshop mock-ups make the rounds. This may have been an early iPhone design, though given the handset's roots in the iPod, we suspect not. More likely it's Apple grabbing ownership of the concept to have it in hand when such a design becomes technically feasible.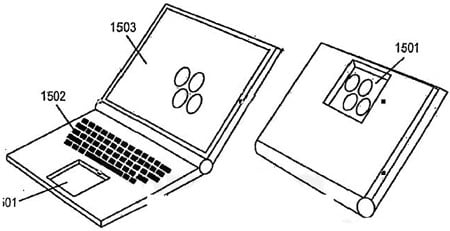 Apple also considered dual-touchscreens for laptops
A second application included in Apple's wacky gadget treasure-trove extends this notion to a multi-screen laptop. One screen, mounted on the back of the notebook's lid, is actually rather similar to Windows Vista's SideShow technology - an embedded secondary display running Windows CE - and would enable emails or pictures to be viewed, or music to be played, while the laptop's turned off.
Apple's 'laptop' application dumps a physical keyboard in favour of a virtual one displayed on a touch-sensitive screen mounted below the main display. Fold the transparent keyboard section up over the main screen and you've got a tablet Mac.
Of course, having a transparent panel means the top half of the clamshell would have to contain all the laptop's circuitry and components. But if Apple can make the MacBook Air as thin as it is, this one shouldn't be too hard.