Intel tweaks SSE 4 to speed text processing
String theory
Intel's 45nm 'Nehalem' processor design will incorporate the second generation of the chip maker's SSE 4 technology. For now, the company is calling the post-'Penryn' Streaming SIMD Extensions instruction set SSE 4.2.
Nehalem's implementation of SSE 4 essentially matches that of Penryn. The key additions centre on the Application-Targeted Accelerators (ATAs) Intel introduced as part of SSE 4. Penryn got two of these, Nehalem will get seven more.
Nehalem's ATAs centre on text and string processing, Intel said yesterday. The need to accelerate text handling may sound rather unnecessary in this era of pervasive multimedia and intensive 3D graphics apps, but Intel claims the ATAs will benefit a range of important tasks, from virus signature scanning to parsing XML files.
Its pitch is that these are everyday routines, and the faster Nehalem can run them not only the quicker the tasks will be completed but the sooner it can close down on-die components to conserve energy.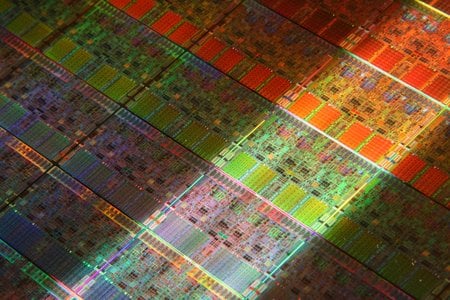 Intel's 'Nehalem': better at text processing than Penryn
Not that Nehalem's design ignores more advanced data types. Chips based on the design will also speed access to data that doesn't sit comfortably in alignment with Nehalem's cache structure, such as multimeda code and data. That should allow the CPU to process such information more quickly, sending out the frame to be rendered then powering down for a longer period - or working on other tasks - before it needs to pick up and process the next frame, for example.
Again, the emphasis is not on raw processing - we know modern CPUs can do video smoothly - but on getting the job finished more quickly, the better to improve power efficiency.
That's the logic behind the re-introduction of HyperThreading with Nehalem, which will also be able to handle 33 per cent more micro-ops - the Core-specific instructions the x86 instructions are decoded into when they're loaded into the CPU - at any given time than the Penryn architecture can.