Nike readies alternative to own iPod workout kit
Nike+ SportsBand to challenge... er... Nike+ iPod
Nike's love of all things iPod may have hit a rut - the sportswear company is rumoured to be going it alone by launching a non-Apple wireless workout dongle.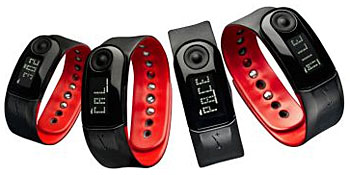 Nike's SportsBand: doesn't allow musical workouts
The latest exercise product, dubbed Nike SportsBand, hasn't been officially announced by the company. However, online reports state that the wrist strap must be used in conjunction with the Nike+ Sports Kit and a pair of Nike+ trainers.
Nike+ Sports Kit calculates all sorts of exercise information, such as calories burned and distance jogged, by monitoring the movement of your Nike+ trainers. The Sports Kit continuously transmits this information to the SportsBand, which has a screen to display the data.
You'll know exactly how long you've been running because the wrist strap is also a digital watch - a button on the SportsBand allows users to toggle between the different displays and operating modes.
Apple and Nike still offer the Nike+ iPod Sports Kit, which does the same job, but sends the data to your music player. The SportsBand isn't musical, so you'll still need to bring an MP3 player of some sort to liven up your running sessions.
Rumour has it that Nike+ SportsBand will be available in Europe this April for €60 (£40/$80).