First supersonic swingwing synthi-fuel flight tomorrow
A foretaste of scumjet or mushroom zoom-boom to come?
The US Air Force has announced that it will carry out the first supersonic flight powered by Gas-To-Liquid (GTL) synthetic fuel tomorrow. A 1980s-vintage B-1 "Lancer" swing-wing bomber will take off from Dyess air force base in Texas, filled up with a 50/50 mix of ordinary petroleum jet juice and synthetic, and go supersonic above the White Sands Missile Range in New Mexico.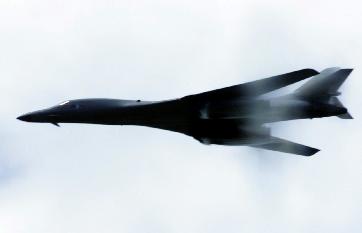 An old dog learning a new trick.
This test will be the latest in the USAF's series, in which the service plans to clear its entire fleet to fly on 50 per cent synthetic fuel. According to a release from the 7th Bomb Wing Public Affairs Unit, noted at Aviation Week's Ares blog, the initial testing is on track for completion in 2011. Using synthifuel normally requires no modifications to the aircraft, just ground and flight trials.
This stage of the idea isn't environment-friendly in any way: the Fischer-Tropsch GTL process used to turn natural gas into liquid involves burning large proportions of the initial feedstock, so that a synthi-fuel powered flight is actually more carbon-intensive than a normal one.
Rather than seeking to save the planet, the USAF is at present seeking to free itself from the vagaries of the global crude oil market. Not only are prices extremely high at present, much of the world supply comes from troublesome regions such as the Persian/Arabian Gulf, Nigeria etc.
Relying on uninterrupted Gulf supplies could be unwise, and also - according to some, anyway - much of the the money paid is used to finance jihadi terror campaigns. Furthermore, Gulf supplies from Saudi, Kuwait etc are shipped past possible enemies such as Iran and emerging power-hungry economies like India and China, who more and more would like to have that crude themselves.
So the USAF would be happy to run on more-secure supplies of natural gas, or Fischer-Tropsch synthifuel made from coal. And indeed, the US military is also seeking tech which could get jetfuel from alternative feedstocks - such as algae scum or even mushrooms - which could potentially be carbon-neutral one day. ®