Retro-style phone mixes VoIP, Dect
Manufacturer Thomson has designed a stylish wireless home phone supporting VoIP and Dect. However, the Symbio has enough additional features to leave you wondering how everything fits into its skeleton-like look.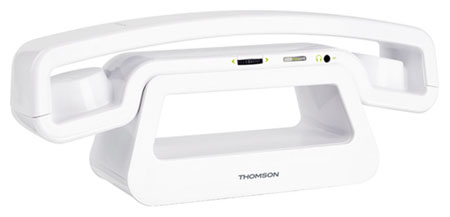 Thomson's Symbio: VoIP, Dect and SMS in one
The Symbio uses a stylised traditional phone design, but enables both landline and internet calls. The internet connection also means web radio stations can be played through the phone's two 3W speakers, or into a pair of headphones. MP3 files can be set as ringtones.
A 128 x 128 display is built into the handset's underside. The screen displays basic call information, such as caller ID and conversation length, and can present RSS newsfeeds too. It also shows information about the music being played over the internet, such as station idents and artists' names.
If your mobile phone's gone walkabouts, then be thankful that the Symbio sends SMS messages too. It might be a wise idea to put your mobile phone's contact library into the Thomson phone first though, seeing as the home phone has enough storage capacity for 200 people.
An alarm function means you can chuck out your bedside bleeper too, using the phone to wake you up to Internet radio instead. The whole unit measures 210 x 45 x 55mm.
A release date or price for Thomson's Symbio hasn't been phoned in yet.