Google's riches rely on ads, algorithms, and worldwide confusion
'Please ignore the cash machine behind the curtain'
---
A Click is Enough
"They're offering you the exciting opportunity to bleed every penny of your budget every day, advertising against keywords that you didn't want to bid on," says Dan Thies, a Frisco, Texas-based keyword guru who makes a living counseling search engine advertisers. "Sure, if I sell Adidas shoes, why wouldn't I want to get some traffic from people who searched for slippers? I mean, it's not like I'm trying to turn a profit or anything, right?" If you couldn't tell, that last bit is sarcasm.
On the other hand, if you're Google, "automatic matching" is a wonderful idea. It's a sure way to boost the bottom line. There are cases where Google only gets paid if an ad leads to a sale or some other customer "conversion" - the company recently introduced a "pay per action" program - but typically, a click is enough.
Yes, "automatic matching" will turn out well for some advertisers. Increased clicks will lead to increased conversions. But it won't turn out well for all.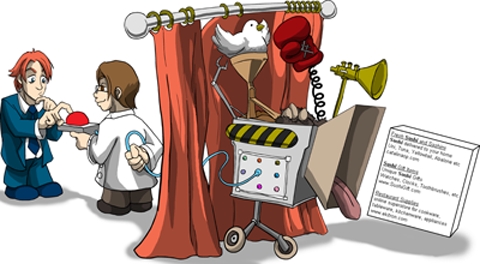 Google Simplifies AdWords
"If you're a new advertiser, either you fail or Google makes a bunch of money off you."
The trouble is that Google seems to include users in this new program without their approval. According to Thies, a Google support representative told one of his customers that the onus is on the user to turn the program off. And most users don't know any better.
To be fair, Google bills "automatic matching" as a beta. And Google is certainly committed to keeping "unintentional clicks" down. But the company bills almost everything it does as a beta. And there's no arguing it's interested in boosting its own revenue.
"Automatic matching" is just the latest in a long list of ways the company misleads advertisers who don't quite understand the way the system works. And it has to be said: An awful lot of Google customers don't understand the way the system works.
"Even for experienced advertisers, setting up an AdWords account is a real challenge," says Andrew Goodman, the Toronto-based paid search consultant who wrote the book on AdWords. "If you're a new advertiser, either you fail or Google makes a bunch of money off you."
What Google Doesn't Want You to Know
Only Google understands AdWords entirely. And that includes the self-proclaimed experts.
For one thing, AdWords is epically complicated - as you'd expect from a system that juggles bids from more than a million advertisers across the globe. But even if you're blessed with a brain hardwired for search engine marketing, you can't know all the ins and outs. Google won't divulge the system's core algorithms.
There's a good reason for this. If Google exposed everything, the experts say, advertisers could turn the system itself into a money maker - and ad relevance would go out the window. "If Google was completely transparent, the bad guys in my industry would game the system," says David Szetela, owner and CEO of the online ad consultant Clix Marketing. "And that would lead to irrelevant ad results for the person doing a search."
The end result is that inexperienced advertisers have no hope of grasping what's what - or even coming close. Naturally, when these advertisers sign up for the system, Google gives them an interface that "simplifies" much of that epic complexity. But at the same time, Google stacks the deck in its own favor. This may or may not be justified. But it's true.
"Hiding the complexities of AdWords makes Google the most money. There's the potential for a conflict of interest."
"You're kind of at the mercy of Google," says Adam Audette, founder of AudetteMedia, a boutique search marketing shop out of Bend, Oregon. "They make everything as intuitive and as easy as possible right out of the gate - and that's a nice bonus for people who don't know have a lot of experience with Adwords. But on the flip side, hiding the complexities of AdWords makes Google the most money. There's at least the potential for a conflict of interest."
By default, AdWords saddles users with several features that behave a lot like the new "automatic match." They serve Google's needs without necessarily serving the advertiser's. What's more, in fashioning algorithms that weed out so-called "bad actors," Google may force legitimate users into bidding ridiculously high amounts just to participate in the AdWords auction.
"I've got a whole staff of Cal Tech and Rice and Baylor engineers who sit here and do nothing but track what Google is doing," says Erick Herring, vice president of engineering at Adapt, a Pasadena, California company that offers a online service for confused AdWords users. "What is the poor end marketer to do? Many only do what Google wants them to do, which is tell Google what their site is about, give Google money, and hope they don't go out of business before the clicks start converting."