Twin-lens reflex camera updated for digital era
Complete with hand-crank
---
If you're not swayed by titanium-clad compacts or waterproof camcorders, then how about Rolleiflex's modern take on the traditional 60 x 60mm twin-lens reflex camera?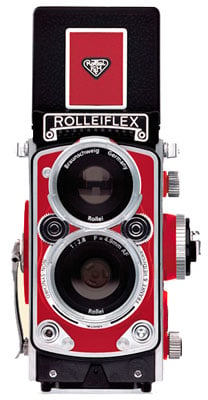 Rolleiflex's MiniDigi AF 5.0: just three megapixels
The Germany company, which has been manufacturing cameras since the 1920s, launched the MiniDigi in 2006. It was a two-megapixel camera based on the retro twin-lens reflex camera style. Rolleiflex has now updated the older model as the MiniDigi AF 5.0. This time, it incorporates a three-megapixel CMOS sensor, which is one in the eye for all those camera vendors who reckon we need seven, ten, 12 or more megapixels to take better shots.
The AF 5.0 has an automatic focus of between 10cm and infinity, and it saves pictures onto Mini SD memory cards.
If you're used to the established compact camera format, then the MiniDigi AF 5.0's 1.1in display will probably disappoint you. The screen's located on top of the camera. However, you'll probably be willing to overlook the small screen size in favour of the MiniDigi's kitsch 1960s look.
Like Rolleiflex's twin-lens film cameras, both the original and updated MiniDigi models also feature hand-cranks. The MiniDigi AF 5.0 uses the angled shaft for setting up the next shot, rather than rolling on the film, of course.
A release date for the Rolleiflex's MiniDigi AF 5.0 hasn't been set yet, but the camera's expected to cost $400 (£250/€300).