Victorian poet Elizabeth Barrett Browning asked us to count the ways I love thee. But if modern-day wedding ring designer Jennifer Flume gets her way, then you'll be counting the ways in gigabytes and diamond carats.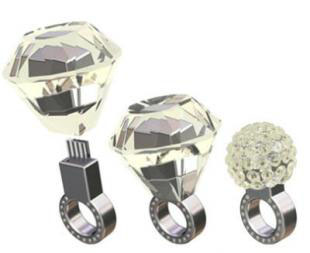 The concept USB wedding ring has in-built storage space
Flume has designed two concept diamond wedding rings, which each hide a USB Flash drive underneath the removable diamond dazzler.
The ring designs aren't suitable for most men, but Flume's concept allows two USB wedding ring drives to be interlocked for data transfers. For example, if you want to send your missus an Excel spreadsheet detailing her monthly shoe allowance, and she likewise with your gadget budget, then each partner can just whip off their respective diamonds and interlock USB drives.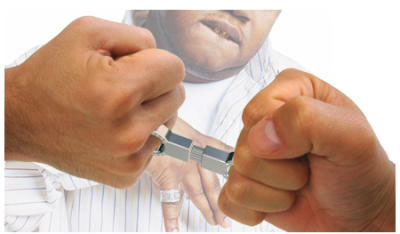 Share your prenuptial agreement with ease
Flume's design's not perfect and there would be various technical issues to overcome, such as the male to female connectors needed to interlock two USB Flash drives. However, it's not a bad notion and, provided you always wear your wedding ring, you'll always have storage capacity at your finger tips – literally.
There's no mention of how much storage space comes with each ring, but it would be natural for the biggest bling is to boast the most.
Each ring also comes with a necklace that acts as a hub for multiple USB wedding rings, which is useful if you have multiple wives…