Review Network-attached storage (NAS) boxes are all very well, but they're not what you'd call user friendly. Arch-geeks love 'em for storing and streaming content, but a fair few folk would prefer a simpler yet equally robust way of making storage available on a network.
Enter Data Robotics' oddly named Drobo, an external storage system designed with a high level of data resilience, now augmented with DroboShare, an add-on that allows a couple of Drobos to be accessed over a network.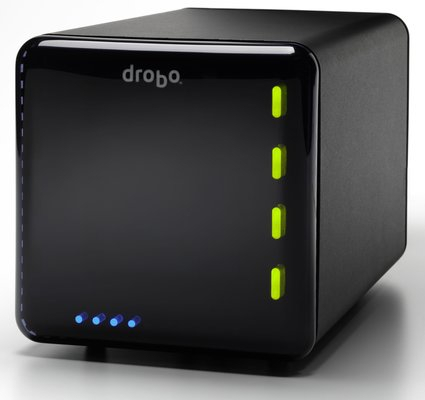 Data Robotics' Drobo: dark but well-lit
First, the Drobo. It's a large, 272 x 160 x 152mm shiny black box with a fan outlet, power and USB 2.0 ports at the back, and a smooth front that's featureless until you power the unit up. Then you get one to four LEDs to indicate the status of the drives within, and a row of ten blue LEDs to indicate what percentage of the combined drives' storage is currently being used.
The drive LEDs have a very simple colour scheme, clearly explained on a sticker inside the front panel, which is held in place magnetically so it's a doddle to remove and replace.
Drobo comes without drives: you need to add two or more 3.5in SATA HDDs yourself. The machine has four drive bays, so there's plenty of room for expansion, and since the system's designed to reconfigure itself on the fly, when you really run out of room, you just yank your smallest drive and slot a bigger one in its place.
And so ad infinitum...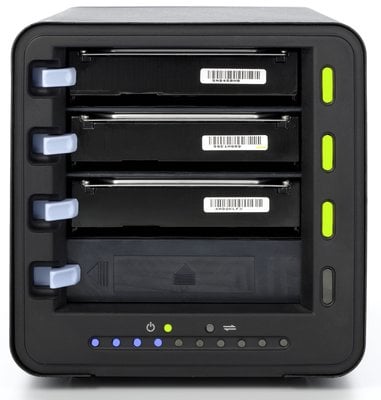 Slide in up to four SATA HDDs
We populated a Drobo with two drives: an 80GB unit and a 250GB drive. Connecting a Drobo to our MacBook Pro caused Mac OS X to pop up its usual unreadable disk warning, from which we opened the OS' Disk Utility and formatted the drive as a single HFS+ Journaled partition. You'd use equivalent tools built into Windows and Linux to set the storage up in those operating systems' preferred file systems.
Sponsored: Webcast: Simplify data protection on AWS