Shoebox man-tracker radar flies in nimble drone
UK pork-fed flying dinosaur era over before it begins?
US wartech behemoth Boeing, in partnership with robocraft specialist Insitu and radar company ImSAR, has announced successful flight trials of a two pound man-tracking radar system "about the size of a shoebox".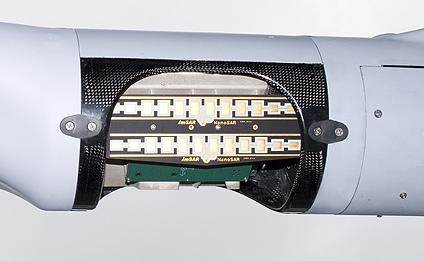 Shoebox man-tracker radar fitted to ScanEagle miniplane.
The "NanoSAR" lightweight synthetic aperture radar made a 90 minute flight above Oregon aboard a small ScanEagle drone on 7 January, according to Boeing. The info gathered was successfully used to generate radar imaging of vehicles and structures, though at present the data has to be processed offboard after landing. Boeing believes it will soon be possible to generate imagery onboard and pass it over the air in real time, however.
"In the past, the advantages of SARs' all-weather imaging capabilities have been the exclusive domain of only larger unmanned aircraft," said Carol Wilke, Boeing ScanEagle honcho. "Now, even the 40-pound ScanEagle can carry both an electro-optical or infrared camera and a SAR payload at the same time... SAR is now at the lower end of payload weight instead of at the top."
Ground-sweeping synthetic aperture radars can usually image large areas, fast, down to quite fine resolution - perhaps as fine as 35cm in the case of NanoSAR. This can be done regardless of cloud cover, weather, night etc. Perhaps best of all, objects in motion can be picked out and highlighted by so-called "moving target indicator" (MTI) tech - which is supposed to be an option for NanoSAR.
This sort of kit offers the chance to pick out moving vehicles or even individual people over wide areas, at least in open terrain. Even thermal-imaging or other cunning cameras struggle to do this owing to their limited field of view - the so-called "drinking straw" effect. But MTI radar can cue cameras onto moving objects in an area of interest, allowing them to be identified in detail.
This is why the gold standard of flying spyeyes is not just cameras, but SAR/MTI radar and cameras both at once. Thus far, this has required a fairly hefty airframe - something in the order of the US Predator or the planned UK/Israeli Watchkeeper.
Boeing is also trying to make such gear work from the top of tall masts along the Mexican border, for the purpose of spotting any sneaky huddled masses yearning to breathe free.
Having shoebox SAR/MTI aboard ScanEagles could open up a spy-fi-esque new world for robo-spyeye operators. You wouldn't be tied to a fortified airbase with a runway, full of expensive and vulnerable support people, pilots etc. ScanEagles can be flown from the back of a truck or the deck of a 25 metre speedboat.
The little planes can work autonomously in packs - needing very little input from ground controllers. Once cued onto - say - a suspect vehicle, they can follow it without further orders, and they can interact with ground personnel who need carry nothing heavier or more complex than a smartphone. They can do comms relay, too, providing video-worthy bandwidth to troops on the ground - or to other ScanEagles - as they loiter at 16,000 feet for a dozen hours or more. And ScanEagle is set up to carry different electronics payloads - it wouldn't be hard to put the lower-power types of electronic warfare gear on it.
At the moment, many of these missions are seen in the British military as a good reason to buy enormous multimillion or even multibillion pound pieces of kit requiring hundreds or thousands of uniformed and civilian support staff, despite desperate budgetary pressures.
Aged, dangerously rickety, airliner-sized Nimrod jets are currently doing much of this work above Afghanistan, for instance. This fact is often used in support of the ongoing British programme to buy 12 new Nimrods for £3bn to £4bn.
Likewise Watchkeeper, which won't offer much - if any - more capability than ScanEagle + NanoSAR, but will cost £800m to buy and a lot more to operate. All this at a time when the forces are scratching desperately to find even £90m to sort out a few urgently-needed helicopters, and a combat soldier is still paid less than half what a fireman gets.
NanoSAR isn't ready to go yet, of course. But then neither are Nimrod, Watchkeeper, etc. It is fair to say that the bigger UK platforms will offer some things which small, cheap drones like ScanEagle don't - but then, they can't take off from trucks and speedboats. And the differences frankly won't be such as to justify the prices. Once Boeing has ScanEagle up and running with all its bells and whistles, it will make several of the current British programmes look even more like what they are: bloated pork-hungry dinosaurs, eating our armed forces alive. ®