This article is more than 1 year old
DOJ blesses XM/Sirius marriage
Smacks lips at a la carte menu
The US Department of Justice today is giving a nod of approval to the merger between satellite radio companies XM and Sirius, more than a year after the deal was first announced.
Although the merger still requires approval from the Federal Communications Commission, the FCC is unlikely to go against the Justice Department's decision. The FCC is expected to weigh in — along with adding specific restrictions for the merger - in the near future.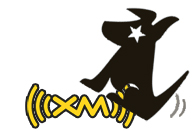 In a decision outlined by a lengthy release, the DoJ said a marriage between the country's only two satellite radio providers is unlikely to put a squeeze on the market in question.
"After a careful and thorough review of the proposed transaction, the Division concluded that the evidence does not demonstrate that the proposed merger of XM and Sirius is likely to substantially lessen competition, and that the transaction therefore is not likely to harm consumers," the department said in a statement.
So 2 minus 1 equals 2 or something like that.
The feds found that competition from traditional terrestrial radio along with emerging mobile broadband internet services will be rivalry enough to benefit customers in the long term. The merger has been criticized by the radio industry, hacks and US lawmakers alike for being both anticompetitive and a breach in the original terms to which the FCC auctioned off the satellite radio spectrum licenses.
Both XM and Sirius have been struggling to stay financially afloat even in an artificial duopoly, and insist merging is the only way they will survive. (Apparently, the thought of moving away from overspending on talent never occurred to either firm.) The companies have proposed a tempting a la carte package plan to subscribers should the proper government heartstrings be tugged.
They also face significant technological hurdles. Satellite radio equipment currently sold for one service cannot function with the the other company's service. Both companies said they are working on the appropriate technology to make their a la carte plan possible.
The decision spiked shares of XM and Sirius late in the trading day. XM stock rose 15.49 per cent at the market's close. Sirius shares were up 6 per cent on the Nasdaq. ®