Review If the 1980s revival has you itching to show how cool you were 20 years ago and the only evidence is on strips of celluloid, VuPoint's slide converter can bring your past into the present.
If you're of a certain age, photography still means F-stops, shutter speeds and a 'click' that isn't just an amusing option. It also probably means you've got boxes of slides that you know you're going to have to digitise one day. Oh, where to start?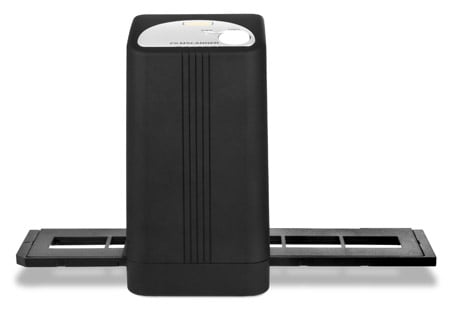 VuPoint Solutions' FS-C1-VP: 5Mp sensor for up to 1800dpi scans
You might consider VuPoint Solutions' basic slide/negative scanner. It's clearly not one of the professional-level jobs pushed by the same companies who actually make pro-camera kit. Neither is it an add-on to your already stretched absolutely-everything-in-one printer.
For your 50 quid, you get the scanner, holders for slides and black-and-white fill and negative film, and a disc with the drivers and Arcsoft's Photoimpression 6 software.
The scanner itself is about 20cm high, with a black matte coating. It feels kind of sexy, if you like that sort of thing. The guts of the machine include a five-megapixel sensor, which will give you 1800dpi scans, or 3600dpi with interpolation. The light source is a trio of white LEDs. And there's a four-element glass lens, forever stuck at F2.0.
Sponsored: Ransomware has gone nuclear