Laser designated step'n'fetch wrinkle-robutler shown
In-home pachyderm tech enters grey lifestyle sector
---
When speaking of cutting-edge robotic systems directed to their target using a dot from a laser designator, one is usually talking about a smart bomb or some other frightful modern day engine of death. But, as so often, this deadly tech sword has now been beaten into a ploughshare - or as we have here, an elderly person's butler with tenuous elephant theming.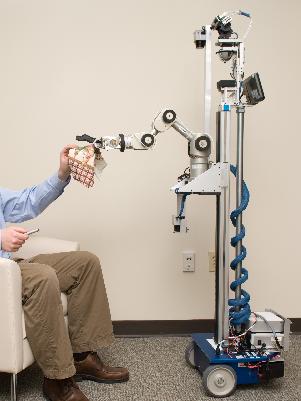 Thanks, Ellie, need to wipe m'eyes after
burnin' them with this here damn laser.
The Health Systems Initiative - a joint venture of the Georgia Institute of Technology and Emory University - is proud to announce "El-E (pronounced like the name Ellie)". El-E is a one-armed household robot, perhaps more reminiscent of an ambulatory hatstand than an elephant, but nonetheless named by the GIT/Emory profs "for the arm's resemblance to an elephant trunk".
"We humans naturally point at things but... we use the context of the situation or verbal cues to clarify which object is important," said Dr Charlie Kemp, one of GIT/Emory's top biomedical brainboxes.
"Robots have some ability to retrieve specific, predefined objects, such as a soda can, but retrieving generic everyday objects has been a challenge for robots."
The idea is that the wrinkly owner/user of future El-Es has dropped something on the floor, and finds him or herself unable to pick it up; or perhaps the thing is across the room, and going to fetch it would be a pain. Trying to tell a normal robot what you wanted would be an onerous business involving tiresome voice commands or some kind of remote TV gadget.
With El-E, one simply lights up the necessary item with a laser pointer, and the servile droid scurries to collect it. Provided, of course, that one hasn't dropped the damn laser pointer.
Having picked the thing up, the droid can then be directed to put it down again somewhere else by laser - or give it to someone. It accomplishes this last option by "looking for a face near the selected location. If the robot detects a face, it carefully moves toward the person and presents the item to the user so it can be taken. It uses the location of the face and legs to determine where it will present the object".
Apparently, the prototype droid butler can already pick up and hand over "towels, pill bottles, and telephones".
The GIT/Emory boffins see El-E as just a stepping-stone to more advanced in-home robo services. They raise the prospect of automatic chef and hairdressing options, as well as simply tidying the place up.
"If you want a robot to cook a meal or brush your hair, you will probably want the robot to first fetch the items it will need," says Kemp. Which does sound fair enough.
Read all about it here. ®