Four 1TB hard drives on test
A quartet of desktop drives compared
---
Round-up Hitachi was the first hard drive company to offer a 1TB model. We got our hands on the 7K1000 and were thoroughly impressed. Since then the other drive companies have piled into the Terabyte market, so it's time to see how they compare.
In the last 12 months or so, the price of the Hitachi has fallen to £159 which pitches it squarely against the Seagate ST31000340NS Barracuda ES.2 and Western Digital's WD1000FYPS RE2-GP. Hitachi uses five platters and ten recording heads to achieve the nominal 1000GB capacity, where the Seagate and Western Digital have four platters and eight heads. The Samsung SpinPoint F1 stands out in this round-up as it's a triple-platter model that packs just over 333GB on each disc.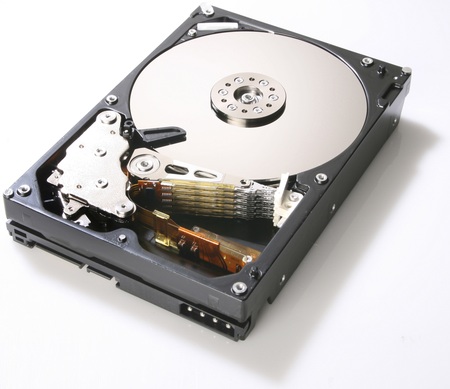 Hitachi's 7K1000: once the standard for low-noise drives...
The Hitachi 7K1000 shows its age as it sports a four-pin Molex power connector alongside the SATA data and power ports. This suggests that the Hitachi isn't a true SATA II drive. However, it has a 3Gb/s SATA interface and supports Native Command Queuing, so if it isn't truly SATA II, it comes very close.
When we reviewed the Hitachi we mentioned the 32dBA seek noise level and commented that it was "extraordinarily quiet". That was especially true when it was compared to the WD Raptor 150, which has an average seek noise level of 36dBA. At the time a 500GB Seagate Barracuda 7200.10 was rated at 37dBA, so the 7K1000 set a new standard for quietness.
How times have changed. In this round-up, the Hitachi is the loudest drive both at idle and during seek and it also draws more power than the other drives. The obvious conclusion is that the five platter design requires more power than the three and four platter arrays and also creates more noise and heat.
If you like, you can visit Hitachi's download page, where you can download the HD Feature Tool utility. There are two versions, one for creating a bootable floppy, the other an ISO image that creates a bootable CD. You can use the software to change the acoustic level, APM (Advanced Power Mode), monkey around with SMART, or show the drive temperature. Should you choose you can also disable the write cache and the read look-ahead cache.